Jul 18 2012
I know that in our Malaysia culture, especially the Chinese family who are often over protective and paranoid over their kids had set the kitchen to be off limit by their young children.  Often mothers placed their kids in playpen while they have to work in the kitchen or simply switch on the TV in the living room to babysit their child. There is no such rule in my household.
Every room, every corner of the house, the kids can move about freely in it.
When our ex maid just left home for good, little JE was only 16 months old. She was still very much attached to me. Since then I have brought her into the kitchen each time i need to cook. From the earlier days where I wear her i the sling when I cut, wash, cook.  She just watched from inside the sling while I explained to her what I am doing , what she can go near to and what she can't and what's dangerous and what's not. Later on when she was older and out of the sling, I often placed her on the table top where I work.
Well, why not put some pots and pans on the floor and let her explore and play on her own? Nope. My little girl is very much a person that wants to be in our world to see what we are doing and be involved.  When I placed her on the floor just right next to me, she cries. Not because she is attached to me like a leech, it is simply because she can't see what I am doing.  I know many parents would get angry and frustrated with this kind of cry and started pushing their child away, but they have failed to understand the need of the child. The child simply wants to be part of their world.
This is how I seated JE at the kitchen top everytime. When I am cooking, I just move her away from the stove and closer to the sink. There she can have a good view of what I am doing. Even when I am washing dishes, she will be seated next to help washing too. Shall i foresee that the cooking may have oil splashes , I will inform her earlier and she will asked to be put down and run away far far in no time. The sense of danger is already instilled in her. She knows what's the limit.
Teacher Bubu from Taiwan once said " Knowing where the dangers lie, you will know where is the safest place to be" (~知道危险在那里,就会知道安全在哪里)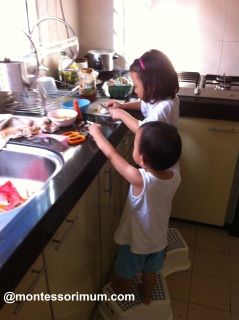 Sometimes she stands on the little stool
But the views she gets is not the best
I am never alone in the kitchen. Any of my girls will always be with me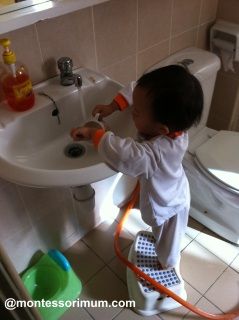 At 2 years 4 months, she started washing her own cup , spoon and bowl without being asked. And mind you… she does a pretty good job.