Jan 06 2013
We love books, but we have never (ok.. only once) visited the public library. The national library is too far away in downtown KL which I only visited once with my dad when i was young. During the year end holiday in2011 I brought the kids to the library in Bandar Sunway located in kompleks 3c but the book collection was miserable and we were not impressed and didn't feel like going back again.
Sometime early last year, I read about the new library located in Shah Alam and had made a mental note to bring the kids there for a visit. Since I never have good impression with our local libraries, I was skeptical if this library would turn out to be our liking and if we ever manage to find any books we like.
On the 28/11 morning, I had to go to i-city to run some errand and since I am already in Shah Alam vicinity, I thought making a trip to the library after I have got my things done.
The library is huge and is nestled in the lush of green , next to the Selangor Golf Club (KGSAAS) in seksyen 13.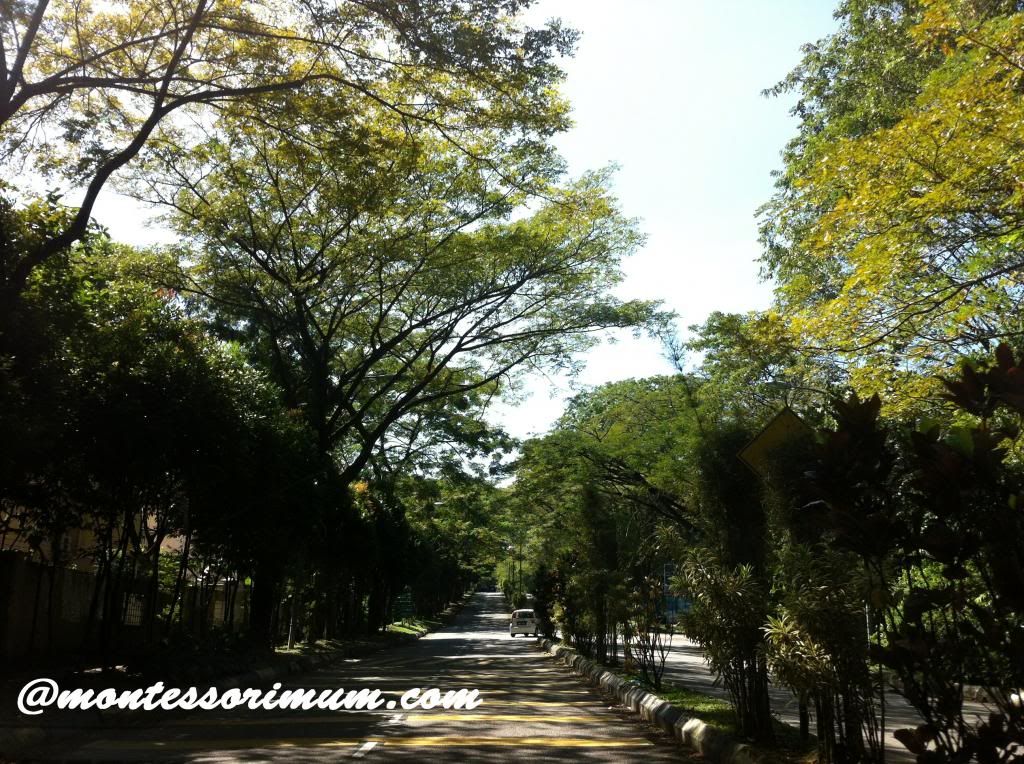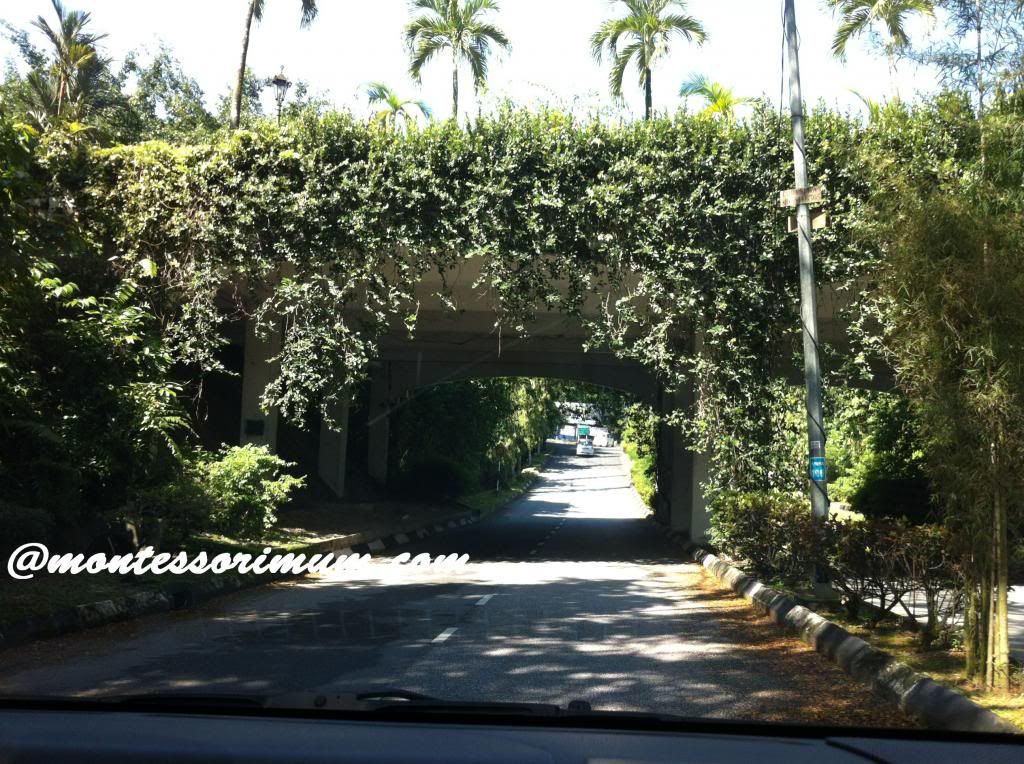 A very serene drive way leading to the library.
The library looks grand from the outside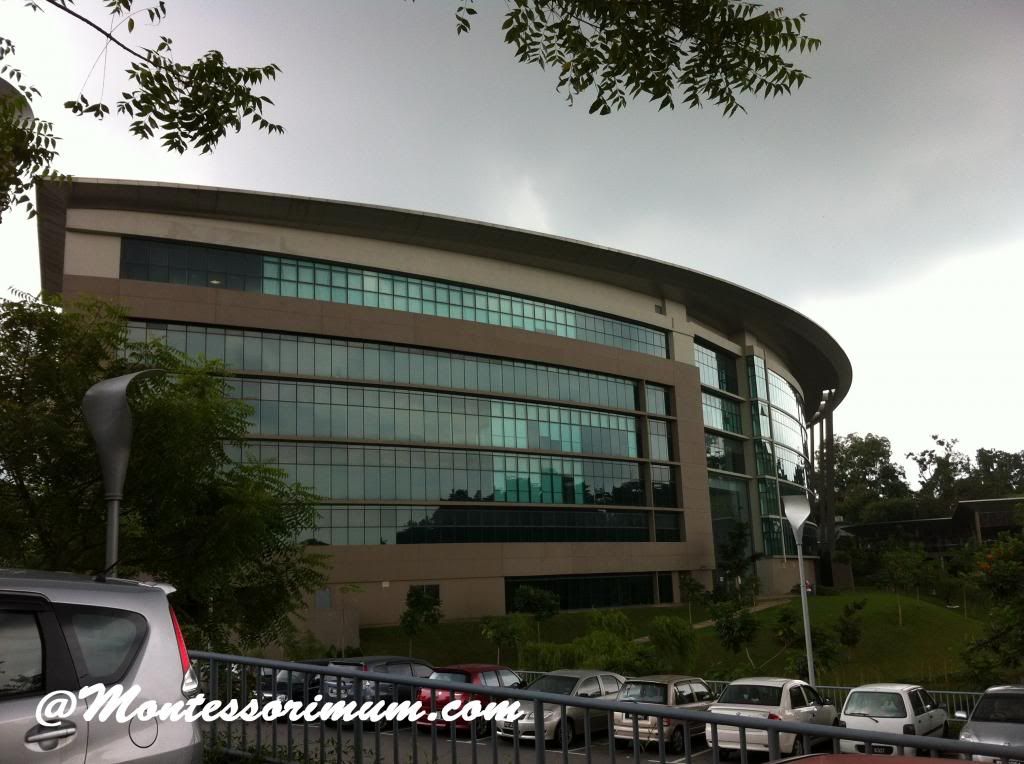 Majestic view from the inside. The Shah Alam mosque make up the backdrop
We headed to the children's area called Zon Kreatif first , which is located at the ground floor towards the right , just after the entrance. We were asked to take off our shoes and store it at the shelves. This is the area specially for the below 10. Facilities available at this zone are Reading Tree, Creative Zone (where free or paid craft session is held), Cyber Zone where one get to used the PC and internet surfing, Iterative Zone where one can play Nintendo Wii. Didn't check for the charges for using these facilities though.
It's very spacious. We had a good feel and good impression upon entering it.
The Reading Tree area
There's a stage as well as TV area. The first time we were there , they were playing the HK movie CJ7, can't remember what movie they put on the second time we were there.
After we stayed longer, one think that put us off was the noise. Perhaps this is a kinder area, it was very noisy and no proper control. Three times we were there, children did not behave as they should in a library. They were running around, playing hide and seek, playing catch etc. It makes it very unpleasant to concentrate and read. The Reading Tree area though look nice and inviting to chill out and read, but it also invites children to play too. The slope is a perfect place for them to run up and down, slide and roll down. And because it's hollow underneath, when the kids were running, rolling on it, it cause a ruckus of noise. Those parents not only did not stop their children but on the other hand encourage and applause to what they kids do (especially the tumbling and rolling down part from the slope)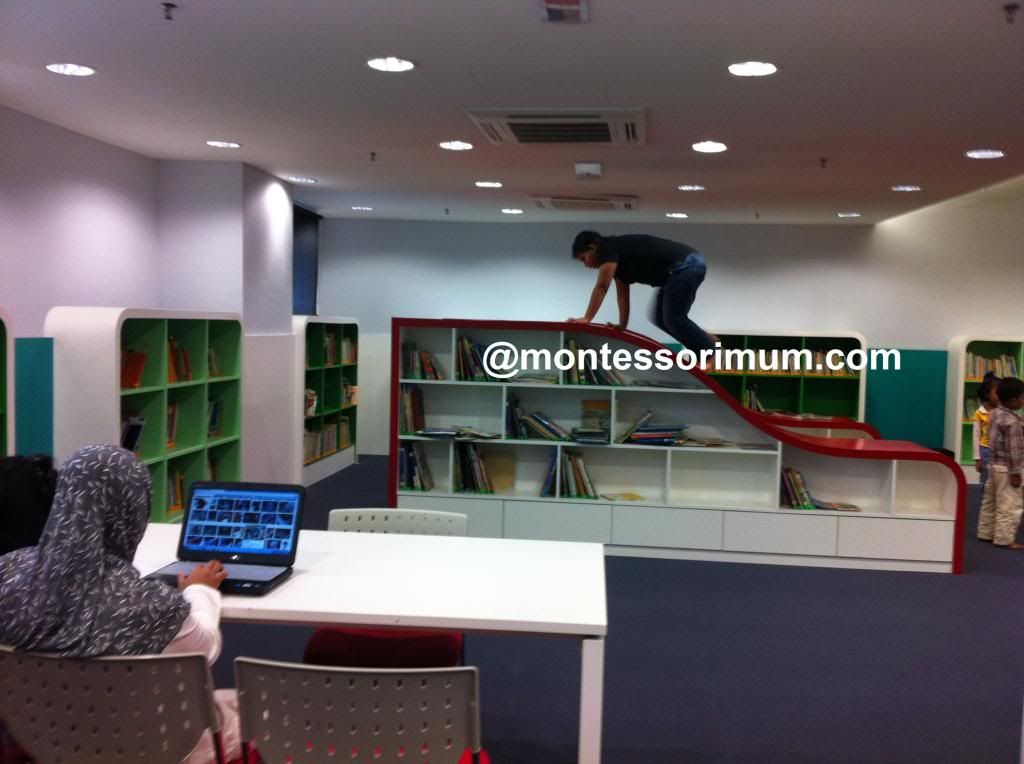 This photo was taken on our first visit. It was during school holidays. Imagine a grown up kid like this didn't know how to behave. She was climbing up the bookshelf and trying to slide down thinking that it is a slide at the park
This is another no brainer. The mother encouraged her children to balance, walk , slide down from the bookshelf.
Anyhow we are pleasantly surprise to see some good collection of Chinese Picture Books in the library. Good quality books they are, some award winning books. These are the books my kids love and which we have been renting from the book rental before it ceased operation.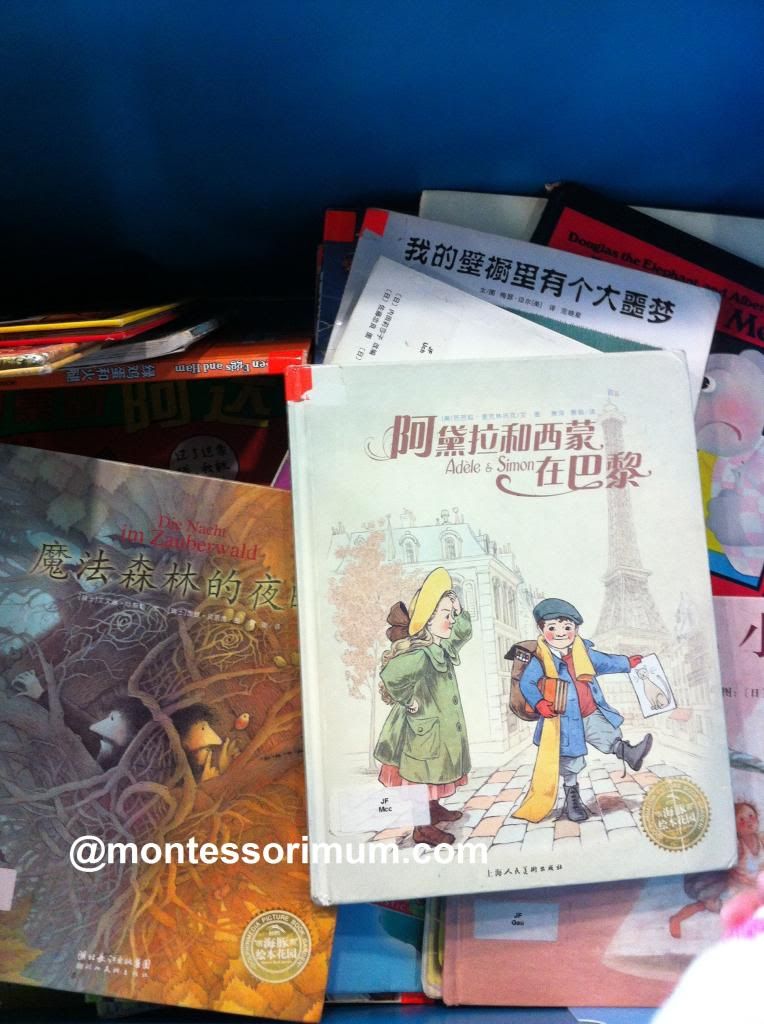 These were some books the kids picked on our third visit and can't made up their mind which to borrow first.
Books we borrowed on our first visit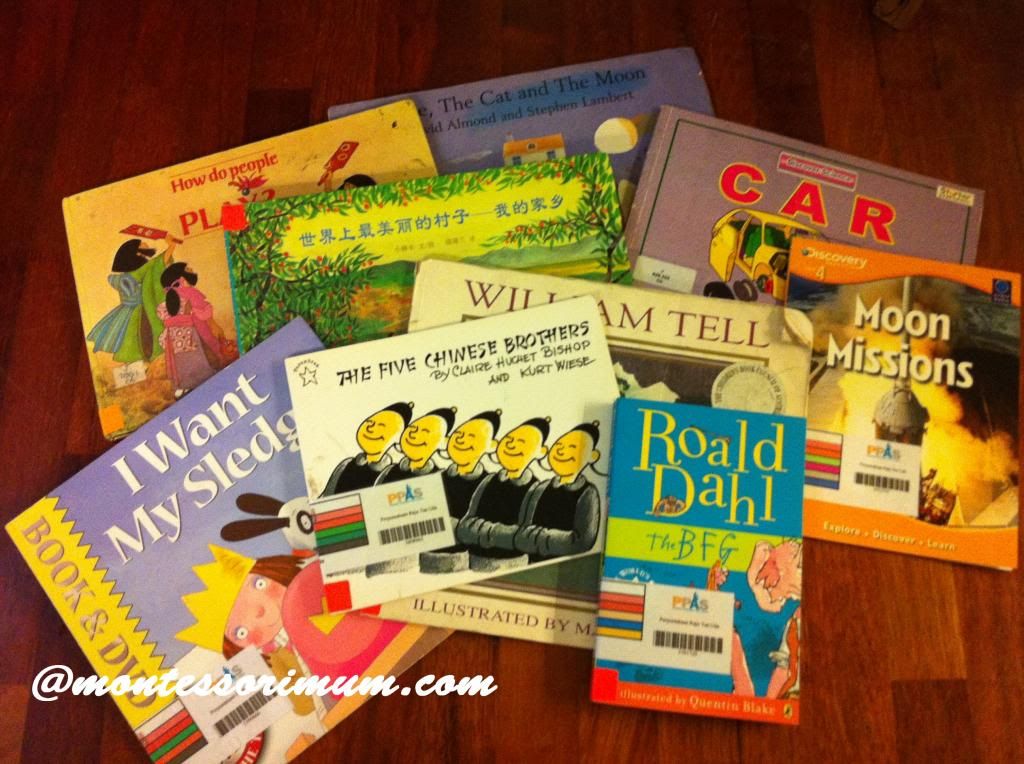 Books we borrowed on our second visit. We were two days late in returning them, and were fined for RM1 for late return for above books.
On our third visit, we only borrowed 4 books, including a brand new Double DORK diaries. WH actually picked another two machinery books but they were green tag books, which mean reference and not to be borrowed out.
Registration to be a member is free. Borrowing books is free. Which member can borrow up to three books a time for a duration of three weeks. I only registered for myself, WH and JL. JS does not have a MyKid hence I can't register her online, I need to do a manual form filling application for her. I thought JE was too young to be a member (actually she can). If with five membership, I can borrow up to 15 books a time for FREE. Quite a good deal. And we really like the book collection there. We thought of not borrowing any books on the third visit. Though it's only 20 minute drives from home, but school has started, making a trip to a library to return books before its due date can be quite a commitment , but still, we can't resist on our third visit.
The whole library has 6 floors , amounting to 18,992 mps. It is very huge. Even after three visit, I have not ventured around the whole library. The upper floors cater to adult. Children below 10 are not allowed to go up. (JS attempted, but was stopped). I can't go obviously as the younger kids are tagging along and I can't just leave them alone at the kids zone.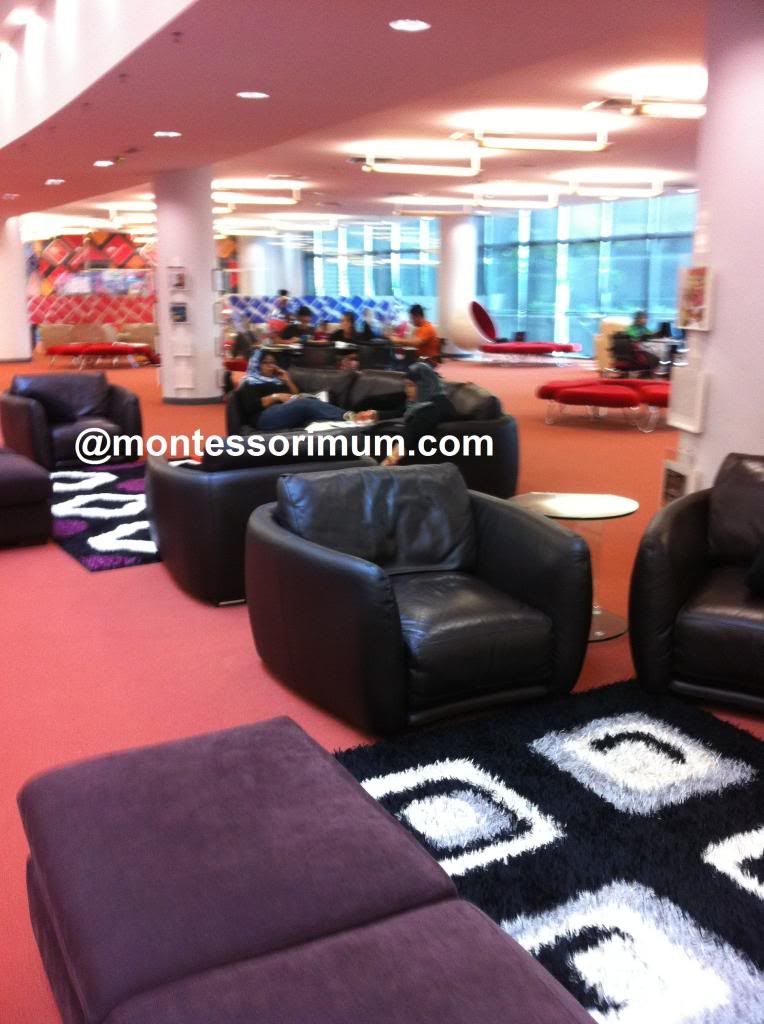 Lobby/lounge on the ground floor at the opposite wing from Zon Kreatif. This is a much quieter and conducive environment to read and do homework.
Impressive architecture. This is the view from the ground floor looking up to the upper floors from the lounge area.
Other facilities available at this library are Gym, Meeting room, Seminar Room, 6D & 3D theater, Cafe and the latest is Tutti Frutti.
Operating Hours
Monday : 10a.m – 7pm
Tuesday – Friday : 9.30a.m – 7p.m
Saturday – Sunday : 9.30 a.m – 9 p.m (except for Kid's zone which close at 7.00p.m)