Apr 18 2012
It has been a long long time since I prepare any fanciful food box for my children to bring to school.  The last time i recorded of making one was way back in 2010.  JS has stopped bringing food to school for a while as she said she prefers buying from food, whereas JL and WH (WH prefers bringing food than buying ) still bring food to school, but what they bring are just very plain and ordinary (dump food in box, extremely simple , can be prepared in less than 5 minutes , done without effort)
The reason I have stopped was JE was still very young and clingy. It was quite impossible then for me to get up early to prepare food box, as the moment I get out of bed, she would be wailing already. Now that she is older, her motion detection mode has lost it sensitivity. She can continue to sleep for another hour after I got out of the bed. The other reason was, when the maid was around, she was the one who does the cleaning and keeping. She always never put the tools back in the proper container, which made it very troublesome for me to locate the tools I need to use. So I gave up.
Last two weeks, I started preparing bento again. It was an impromptu act. Not planned, never had the intention to start off, kids never requested..
I did this for JL.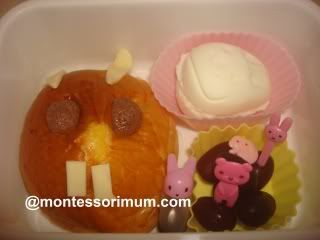 Nothing fancy, but when JS found out that I did this for her sister, she said she wants one too. That's how it started off again by digging out tools, buying for food stuffs for it.
Anyway, I am not a very creative person. I lack patient and delicate hands too. I am also very disorganized and not very good at planning. I don't really plan ahead what and how I want to it. What I have done is nothing really fancy, but to the kids, they are just as happy to bring it to school especially the girls.
As for WH, after bringing it twice, he actually asked me to stop. As one of his classmates commented "Why you always bring nice food to school?". I guess he felt a little embarrassed. Nevertheless, I continue preparing food box with a little thought and effort for him. (Dare not claimed my bento preparation as anything near to fancy or kawaii) and now he is pretty used to it already and doesn't mind having it.
Hopefully this time round, I can prefect my skill in preparing one and dabble my  hands in kyaraben bento.
Comments Off
Mar 26 2010
It's Friday and it's yet another bento day. Very pathetic, bento-ing is just a weekly affair for me and it's nothing fancy. I wish I have the time and creativity to come out with something better.
Papaya, pasta in white mushroom sauce, pork patties
But children are really easy to please. WH's eyes beam when he sees me at school waiting for the surprise. He never knew what I've packed for him each time and he will calls out to his friends with pride saying "come look what my mummy had decorated for me" and now each time I am there and before he gets to open up the box, his friends will be surrounding him and when he opens the box, his friends just look and drool in amazement with such simplicity lunch box.
JL saw me packing today and said " I want same like korkor"
So here's one super quick one and I tricked her by saying "This one is special, you can have this , no need to follow the same like korkor"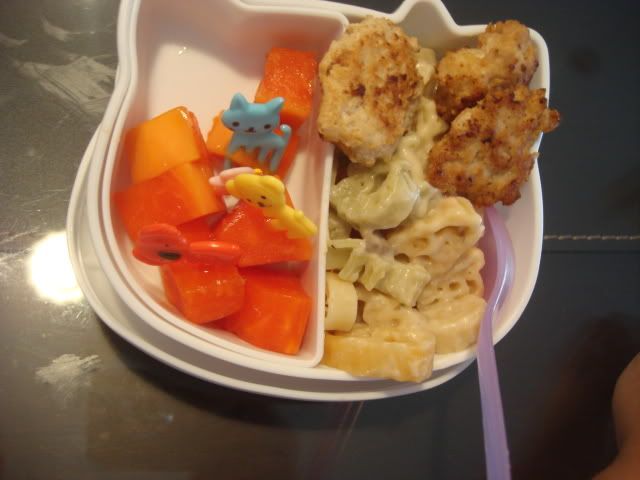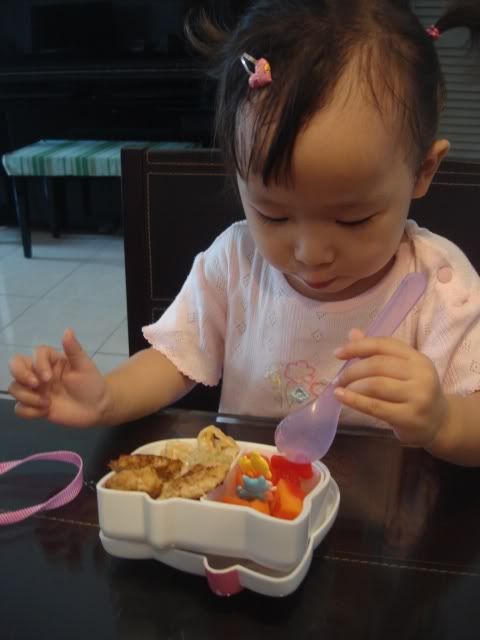 She finished the food while I bath baby upstairs, by the time I came down, we were ready to deliver lunch for WH.
JS's snack for recess on Tuesday:  Egg toast, pork floss and maple syrup in the small container.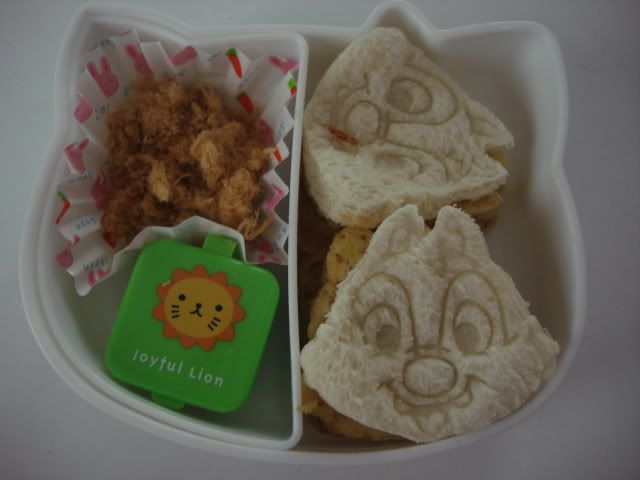 Shall I invest in more bento box? I have quite limited boxes but if I get more, hub surely will nag on me.
Comments Off
Mar 12 2010
Got two different orders from the kids for their bento today. JS having not getting enough yesterday, requested something similar. WH wanted rice instead. His special order was actually japanese rice with sea weed.
I haven't got the hang of it to manage my time in preparing bento. I guess some of the ingredients I really need to get it done in advance to avoid being so rush.
I think get to prepare what WH had asked. Took out the nori sheets , puncher and scissors, but realize I was running out of time.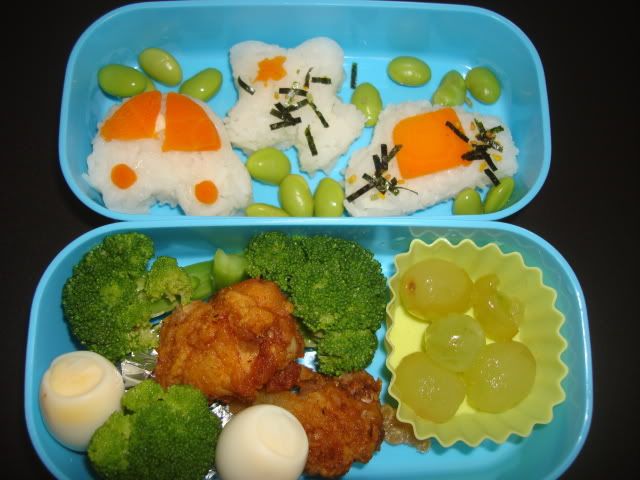 So this is the end product I manage to put up in a rush.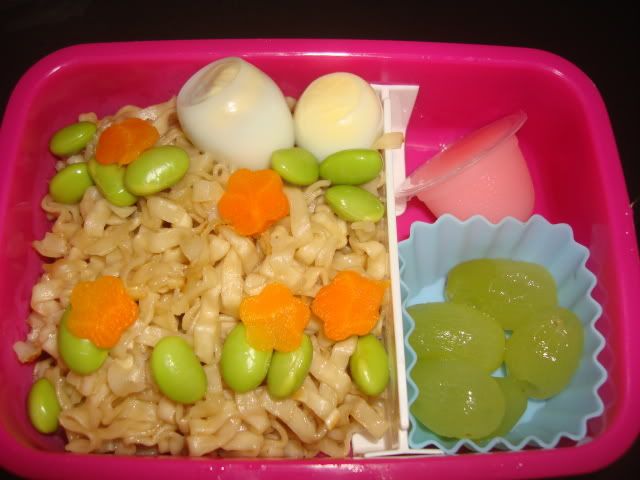 Hope to do better next week.
Mar 12 2010
WH has got extra tuition this week as replacement. Here's yesterday bento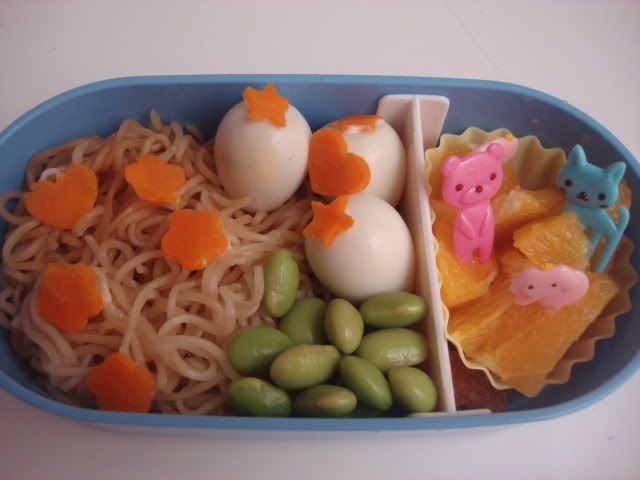 Nothing fancy, just something I can get it up quick.
JS saw me preparing this and requested to have one for recess. Rush to pack another box for her with the leftover, luckily I cooked a little extra.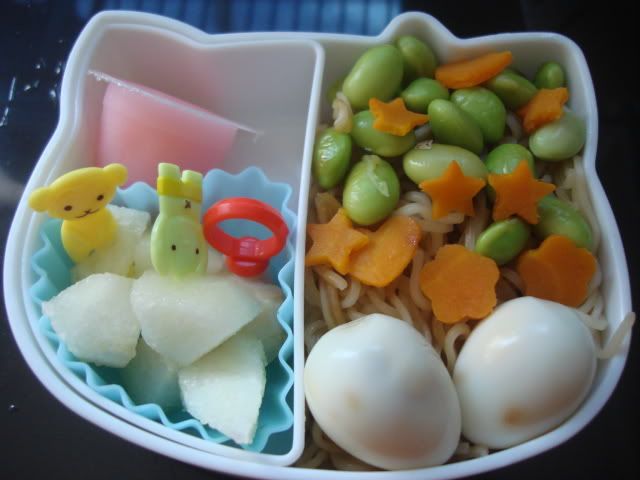 Her request came quite last minute, I don't even have time to think on how I shall pack it, I merely scoop the food into the bento box before the transporter arrive.
Even with such simple bento, I was in a mad rush yesterday. Baby had her feed late and miss her morning bath. Didn't get to bathe her until I came home from delivering food to WH.
Comments Off
Mar 05 2010
It had been a long long time since I packed bento for the kids. Mostly I will be doing so again on a regular basis, at least every Friday. Will start preparing simple bento again (no time for kyaraben bento)
WH has to stay back at school for tuition every Friday. But the eve of the first tuition class, his class teacher called and asked me to prepare lunch for him. I did, as the teacher said it's not worth catering from the school. I told the teacher it just a temporary arrangement as when I had delivered and in my confinement, I won't be able to sent him mood. The teacher said just to prepare some sandwish for him to bring along to school in the morning. So for weeks during my confinement, WH had been eating hard boiled egg and sandwish for lunch every Friday.
Now that I am no longer in confinement, I can sent him food at 12. Yippee..at least he got more option than just bread and egg.
Today's bento (running out of seaweed and ham  and out of time to fry egg) , orange, Simpson shaped pasta in bolognese sauce top with cheese.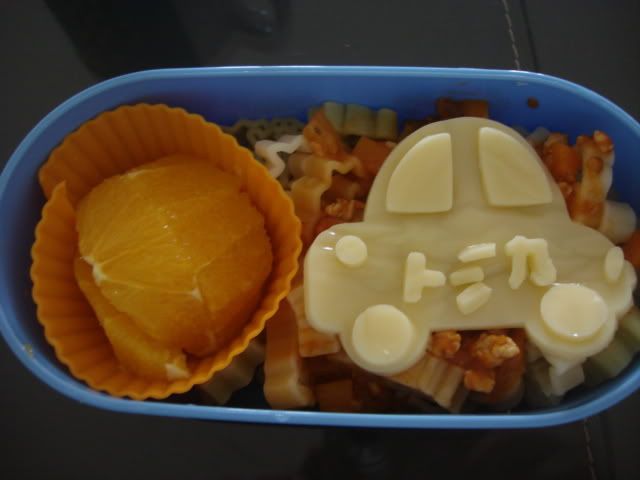 Feb 13 2009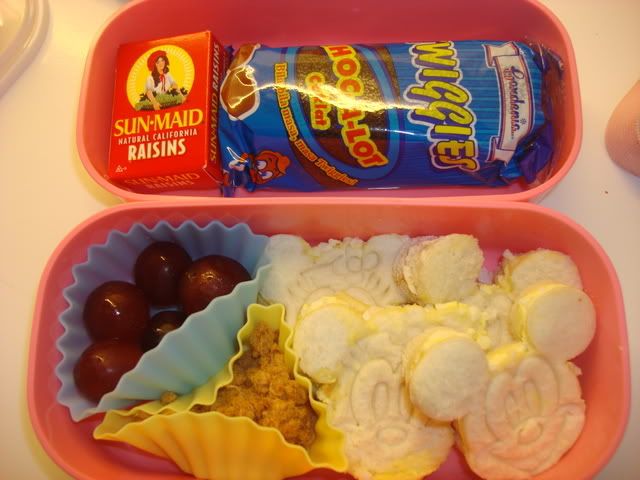 This is obviously much much simpler and instant compared to last week bento. After all, this is what princess request "Something LIGHT" . She said she can't stomach in a lot of food yet and she has just recovered from tummy ache. Even after this morning breakfast, she said she had tummy ache.
For lunch, it's egg sandwich, grapes and pork floss.
For recess, it's all instant food.
After taking a lot of what I've packed, her reaction was
"MUMMMMMMY , why you packed so much again!!! "
Tell me about it, AM I PACKING TOO MUCH?? This is going to last the whole afternoon till she comes back for dinner.
Feb 13 2009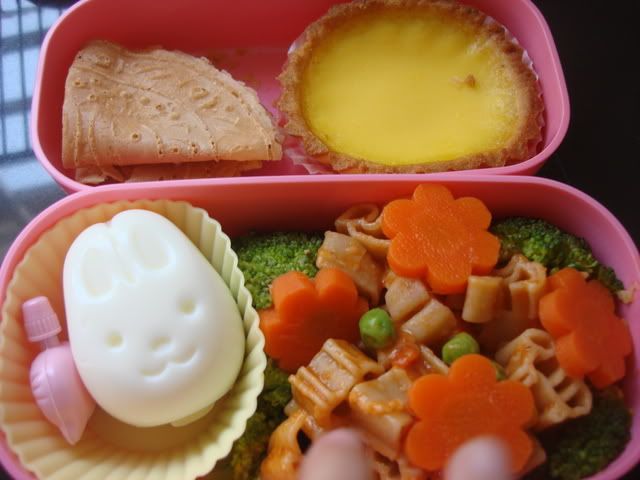 Bento for last Friday. Egg tart, love letters for recess. Egg and pasta for lunch.
But JS couldn't finish everything. She claimed that she doesn't have enough time to eat and asked me never to pack so much food for her.
Scratching head how to pack nice presentable bento if she doesn't want so many things in it.
Jan 09 2009
I hardly cook lunch , not even when I've become a SAHM. I used to cook porridge though and still doing so for baby, but the two older kids usually had food stall food/fast food or left over food from the night before for lunch. Very seldom I cook lunch for them.
Now that JS's is in afternoon session, I somehow feel that it's important for her to have home cooked meal before she goes to school. Do not know where this mentality comes from, but just feel that I need to feed her properly (not to say she goes on hunger when I don't cook lunch) to be ready for school.
So I started cooking lunch. ( Cheated one time this week, by buying the kids McD for lunch) and today I decided to do it in a lunch box since I have started it again 2 days ago.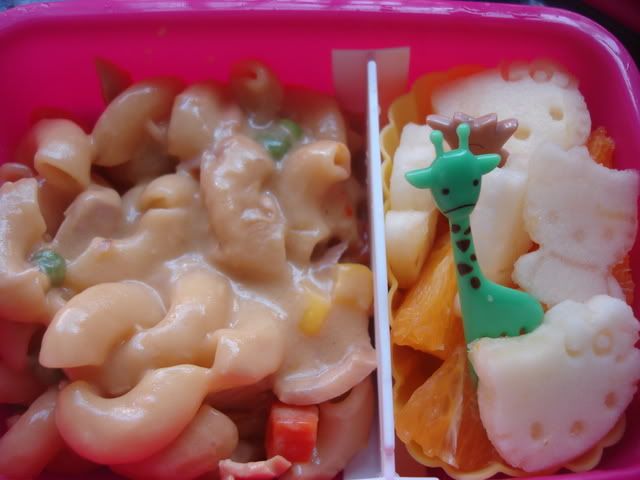 Lunch for today: Macaroni cheese with mixed vege and tuna,  Kitty shape apple and orange.
Jan 09 2009
I start to pack bento again, not for lunch or snack but for dinner.
Need not pack snack for the kids at this moment as WH's school provide snack and I have paid the school canteen for JS's meal during recess. Maybe next month I will stop paying the canteen and JS will alternate between packed food from home or buy from the canteen.
Wednesday is the busy day of the week, need to rush to music class after school. Since it's the first Wednesday after school started, it's hard for me to estimate the time whether we have enough time to eat at home, change before we go to class. Now that I have confirmed we have time to go home for a shower and quick dinner before going to class. ( JS went to music class in her uniform last Wednesday, not to say we don't have time to change , but she refused to go home, she wants to eat in the car, since I have packed bento for her 8|
Nothing fancy, since it's the first bento I've prepared after such long break and I was in a hurry , cooked at 5-ish, rained so heavily, wanted to leave home early to get a prime parking spot.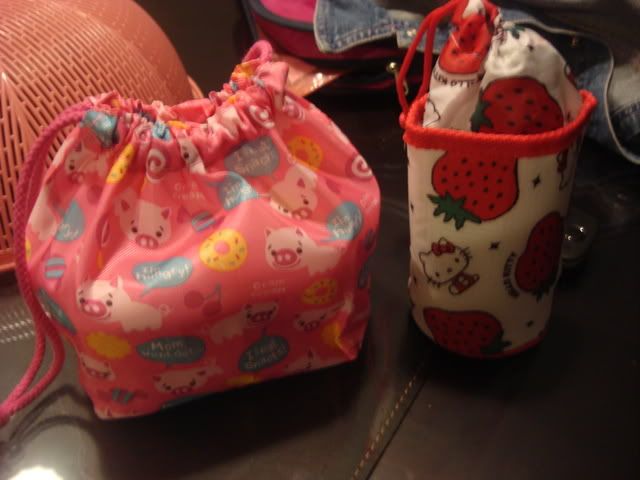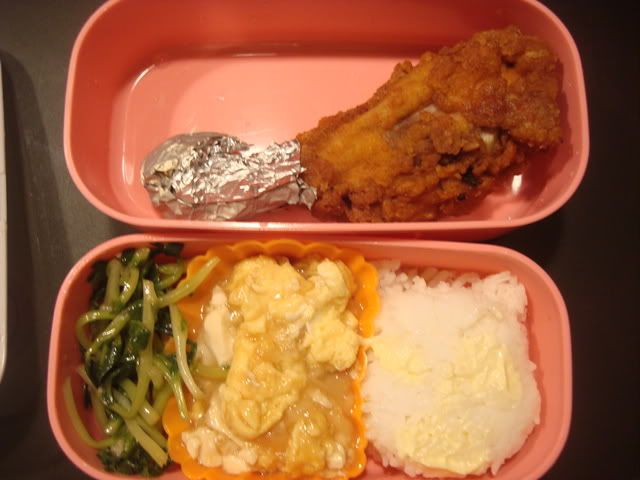 Wanted to decorate the face of POOH shape rice, but ran out of time.
There's no proper table in the car for her to eat, hence the next day I decided to get her this (Since I'm getting one for JS, it's also fair to get one for WH too) :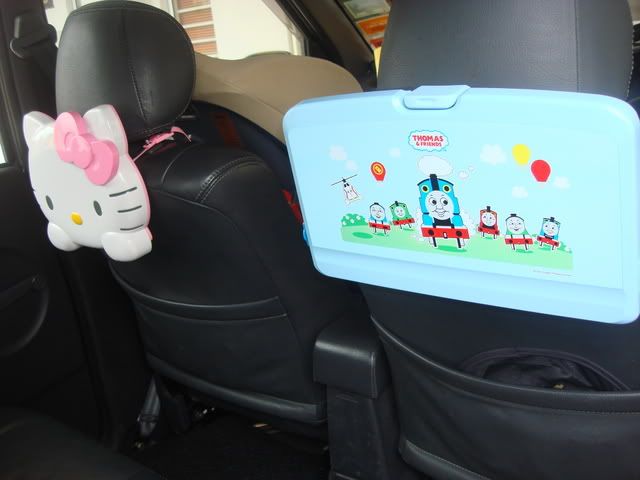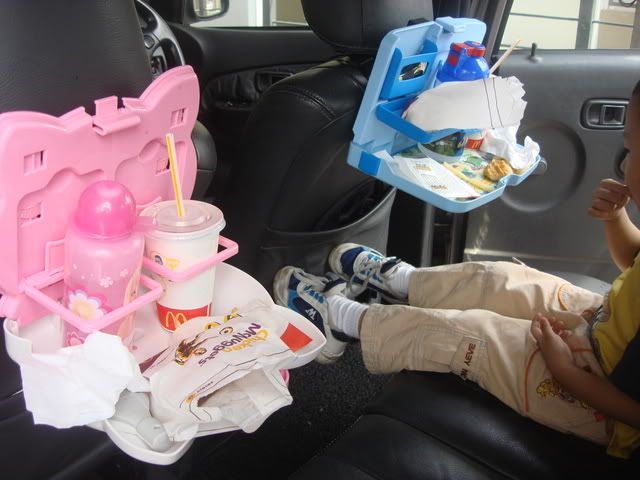 Now, they prefer to dine in the car. Even reach home already also refused to get down.
Jul 22 2008
I thought I will temporary stop preparing bento as most of my tools has been packed away, sealed up in the box. Only left a few egg and rice molds accessible. JS ordered a bento from kitchen last night and she only wanted fruits and egg.
So here's today's Bento.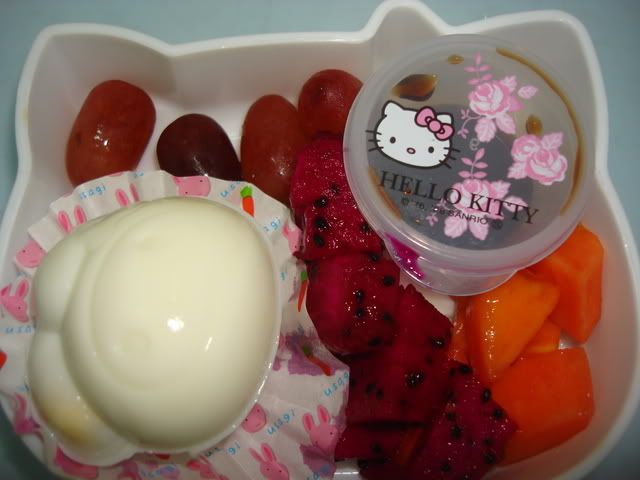 Simple. Don't even have cutter to shape the fruits and using a wrong size sauce container. On top of this, JS also packed another pack of Teluk Intan Heo Pia to school.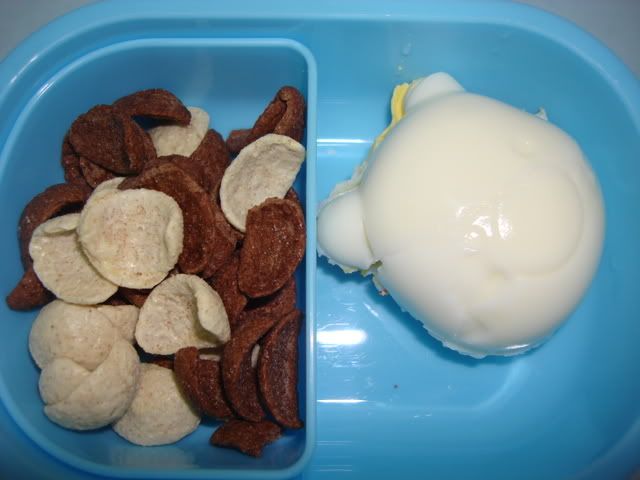 To avoid messiness, I didn't give WH fruit to bring to school, so I gave him Koko crunch instead.
She came home telling me that the teacher asked her not to pack so much food to school. Probably she's taking longer than usual to finish the food and recess time is only very short.