Apr 11 2007
Hits for this post:2730
For my two previous pregnancies, we didn't really try for it. I conceived quite naturally without much effort , the 2nd time the only consideration was the age gap between JS & the baby, but we didn't really plan,as in we wanted a year end baby etc etc.
This time round, it's really a plan one. First thing to consider is the age gap between the two older kids. 5 and 3 seems to be the perfect gap. MIL has been mentioning about a piggy – a piggy girl to be exact for sometime already. Somehow hubby and me had been 'brainwashed' that piggy year is a good year to make baby, so we aimed for that. We know we wanted a girl and I particularly wanted a year end baby. I dont know why, I just prefer to have it end of the year. The festive and celebration season.
That has narrowed down our baby making time to a mere 3 months. If I start work Jan and conceived by then, I will get a September baby… not so near to year end yet. So the best time to "work" is in Feb & March. April still ok, but it also run a risk of early Jan baby and not so piggy already.
The two tools I use in order for me to TTC successfully (year end piggy girl) was the Birth Chart and also a little software in my palm. The birth chart which I have written about earlier seems to be quite accurate. But in the midst of planning, somehow I miscalculated and thought that my chance of getting a YEAR END PIGGY GIRL is very slimmed. Because it shows BOY BOY BOY for month Feb to April. Nevertheless, I go ahead with the "work, because I wanted a year end piggy so much and the gender doesn't  matter so much since I already got a pair, worst come to worst I give it another try for No4
( but later when I recalcuated back, I realize that the prediction is a girl instead of boy, relief. So stay tune to see if the chart is accurate or not)
The software I use in my palm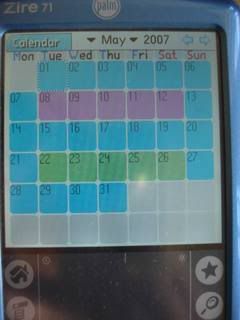 It has also been my faithful little contraceptive partner over the years.  The pink colour indicates predicted period, and the green colour is the fertile/ovulation period. I have been diligently recording each of my period to get a accurate predicted fertile period and also for contraceptive purpose. It also allow you to jot down the day you "work" . So you can actually know when you conceived.
Click on each date, you get this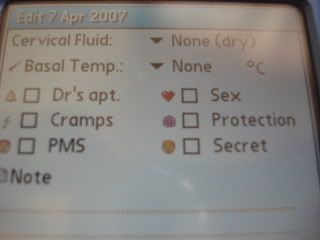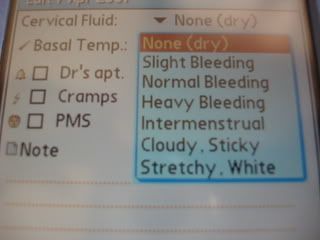 I've never use the Basal Temp before, couldn't really be bothered, but just to keep track on the flow and the date of the flow. Quite a techie way to TTC yeah!
Aitelyu… to combine this two method to TTC is no fun at all and it can be quite stressful, mind boggling. Because you don't "work" on leisure for pleasure…. you "work" with a mission to accomplish –  making a baby and constantly saying/thinking " sei fou lor… the green period is going to over soon..I'm now less fertile already", and with two young kids around, when it's the time to TTC, they seems to be at their most demanding wits, they refuse to go to bed early or take longer time to fall asleep, and by the time they fell sleep, the man already snoring away , they ask you for this and that and for the adult If not either one of us will be too tired to work or not in the mood during the green period but still force to go ahead. It's so less fun than a impromptu "work".
Luckily it only took me 1 try to hit jack pot.

Blogsphere: TechnoratiFeedsterBloglines
Bookmark: Del.icio.usSpurlFurlSimpyBlinkDigg
RSS feed for comments on this post
7 Responses to "My TTC Method"
may your wish be granted.

I hope so too… will know in a few months time.

Wow, I never knew about such a sophiscated machine! Amazing! Thanks for sharing! And all the best for your piggy girl!

Indeed, that's quite a cool software.

Wow, must keep this for future reference, but I doubt my haywired cycles are predictable.:-)

Planning for one soon?

#

Catherine

on 12 Apr 2007 at 9:18 am

How I wish I could TTC like you…..I have regular cycle and tried calculating the dates but never conceived as planned. My 2 kids were conceived when I was about to give up. May your wish comes true

You got your wish even without planning. When TTC and there's stress, usually the success rate very low.

Wah, so high tech nowadays to aim a boy or a girl. Hope ur wish come true, and share w me in more details in case i wanna have another kid in future. Can? Hehehe!

Chasing for a boy ka?

Hi Elaine, how many week sare you now? Still frequent log in to MJ forum? I've planned for this baby & I'm lucky too coz 1 try only hit jackpot already.
Doc said I'm having a piggy girl on my 22nd & 26th week check up & I hope it's true!

Yup…still login to MJ on and off as a lurker.

I'm only in my 11th week now…too early to tell if it's a girl or boy yet. 

#

Angeleyes

on 13 Apr 2007 at 7:33 am

I also think so when there's a mission to achieve it gets harder! Darrius was our wedding nite baby… so it's on a more relax mode… this time round… only God knows… *sigh*

wei… I tot I heard the good news already? Still not confirmed?