May 06 2007
Hits for this post:21184
Kena tagged by Immomsdaughter.
Talk about food..yum yum…I have many favourite food, ranging from curry laksa to rendang ( all spicy) but my top pick will always be the food that I've grown up with. Teluk Intan Chee Cheong Fun. This is only available in Teluk Intan (authentic local food , can't claim it from any other place else, though it's now available in KL but it still bears the name TELUK INTAN CHEE CHEONG FUN.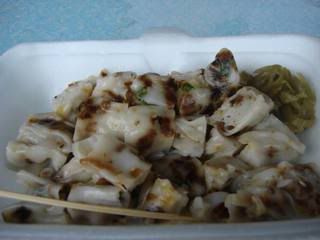 It's very cheap, for less than RM2, you can get the above. It's normal chee cheong fun with sengkuang and dried shrimp fillings. Yummy. The famous shop will be Liew Kee at Pa Mei (芭尾)… that one have to queue quite long. Alternatively I go for "Sam Siew Ye".  Makes me drool now looking at the pic as I don't get to eat it often now coz I seldom go back hometown now.
Passing the baton now to
1. HealthFreakMum – Not sure if this is your first tag…. but will be a start for you to get more incoming links.
You need this.
2. Chinnee – Another new mom on the blog. Care to do this tag???
3. MummyinVain – Any nice Ipoh food to share? Since you got a food blog?
4. Cutie Princess Mummy - One more tag for you
5. Nicole aka SSS – Haven't tagged you before…here's the first to you.
*********************************************
Instructions.
**Start Copy**
Proposition: What is your favorite food in your state or country?
Requirements: Find some info about the food and show delicious pictures of it?
Quantity: FIVE PEOPLE.
Tag Mode: You leave their blog and post link and add to the list below.
Mybabybay loves Asam Laksa from Penang, Malaysia
JustMyThoughts loves Penang Char Koay Teow
My Lil Venture loves Laksa Sarawak
Montessorimum loves Teluk Intan Chee Cheong Fun

Blogsphere: TechnoratiFeedsterBloglines
Bookmark: Del.icio.usSpurlFurlSimpyBlinkDigg
RSS feed for comments on this post
35 Responses to "Food Around The World Tag"
#

FS

on 06 May 2007 at 1:30 pm

Now you start my craving for TI Chee Cheong Fun pula, hahahha… wait until i show this pic to TL tonight *slurp*

I'm superly craving for it now, imagine staying in M'sia and still dont get to eat it…you are so far away…lagi teruk.

OMG!!! We share the same food crave. I just lobe TI Chee Cheong Fun but difficult to find in KL. Any advise??

When I was staying in PJ Sekyen 17, a few of the stalls at the wet market were selling TI Chee Cheong Fun, but only on weekends, one even said is "Seng Kee" Chee Seong Fun. We have shifted for more than 2 years so I'm not sure if they still sell at that market. No idea about other places in KL

'Tks' for tagging me. Ok, now i need to think what my fav food is, then get DH to buy it, snap some pix of it and post my reply.

Take your time to do and no need to rush.

Thanks for doing this and btw, congrates on your new PR4. I guess you were expecting a 5 but 4 is equally great for such short term achievement

yeah, was expecting a 5 like my previous site…but a 4 is good for the time being la

aik…i kena liao….anyway thanks…talking bout food, got lots to share from melaka, will need to find the pic first.

hey, i love chee chong fun from penang with the "har kou". Here cannot find lar…does anyone knows of similar chee chong fun in kl?

ooh… ok

hhmm..never try the penang chee chong fun before

[...] Montessorimum loves Teluk Intan Chee Cheong Fun [...]

[...] Mybabybay loves Asam Laksa from Penang, Malaysia JustMyThoughts loves Penang Char Koay Teow My Lil Venture loves Laksa Sarawak Monterssorimum loves Teluk Intan Chee Cheong Fun Chinnee loves Melaka Wan Tan Mee PeimunLeah loves Hakka Lei Cha Hui Sia Jonamum Karen loves Pan Mee Something about Lai loves Crispy duck skin from China Simple American loves Cheese Enchiladas Nicole Tan loves Char Tau Kueh velverse loves otak-otak [...]

[...] Mybabybay loves Asam Laksa from Penang, Malaysia JustMyThoughts loves Penang Char Koay Teow My Lil Venture loves Laksa Sarawak Montessorimum loves Teluk Intan Chee Cheong Fun Chinnee loves Melaka Wan Tan Mee Leah loves Hakka Lei Cha Hui Sia loves Crispy Duck Skin from China Karen loves Pan Mee. Simple American loves Cheese Enchiladas Giddy Tiger loves Dim Sum [...]

[...] Mybabybay loves Asam Laksa from Penang, Malaysia JustMyThoughts loves Penang Char Koay Teow My Lil Venture loves Laksa Sarawak Monterssorimum loves Teluk Intan Chee Cheong Fun Chinnee loves Melaka Wan Tan Mee PeimunLeah loves Hakka Lei Cha Hui Sia Jonamum Karen loves Pan Mee Something about Lai loves Crispy duck skin from China Simple American loves Cheese Enchiladas Nicole Tan loves Char Tau Kueh CuriosityKiller [...]

[...] Mybabybay loves Asam Laksa from Penang, Malaysia JustMyThoughts loves Penang Char Koay Teow My Lil Venture loves Laksa Sarawak Monterssorimum loves Teluk Intan Chee Cheong Fun Chinnee loves Melaka Wan Tan Mee PeimunLeah loves Hakka Lei Cha Hui Sia Jonamum Karen loves Pan Mee Something about Lai loves Crispy duck skin from China Simple American loves Cheese Enchiladas Nicole Tan loves Char Tau Kueh Velverse loves Otak-otak Kenny Ng loves Jawa Mee Fatty Poh loves Nasi Dagang Kelantan WMW loves Kuih Tutu Tummythoz Tigerfish Lee Ping loves Nasi Lemak [...]

[...] Mybabybay loves Asam Laksa from Penang, Malaysia JustMyThoughts loves Penang Char Koay Teow My Lil Venture loves Laksa Sarawak Monterssorimum loves Teluk Intan Chee Cheong Fun Chinnee loves Melaka Wan Tan Mee PeimunLeah loves Hakka Lei Cha Hui Sia loves Crispy duck skin from China Karen loves Pan Mee Simple American loves Cheese Enchiladas Nicole Tan loves Char Tau Kueh velverse loves Otak-Otak Giddy Tiger loves Dim Sum Kenny Ng loves Jawa Mee Erina Law loves Wan Tan Mee may loves Roti Bakar King's wife loves Dai gau meen [...]

[...] Mybabybay loves Asam Laksa from Penang, Malaysia JustMyThoughts loves Penang Char Koay Teow My Lil Venture loves Laksa Sarawak Monterssorimum loves Teluk Intan Chee Cheong Fun Chinnee loves Melaka Wan Tan Mee PeimunLeah loves Hakka Lei Cha Hui Sia loves Crispy duck skin from China Karen loves Pan Mee Simple American loves Cheese Enchiladas Nicole Tan loves Char Tau Kueh velverse loves Otak-Otak Giddy Tiger loves Dim Sum may loves Roti Bakar [...]

[...] Asam Laksa from Penang, Malaysia Penang Char Koay Teow My Lil Venture loves Laksa Sarawak Monterssorimum loves Teluk Intan Chee Cheong Fun Chinnee loves Melaka Wan Tan Mee [...]

[...] Mybabybay loves Asam Laksa from Penang, Malaysia JustMyThoughts loves Penang Char Koay Teow My Lil Venture loves Laksa Sarawak Monterssorimum loves Teluk Intan Chee Cheong Fun Chinnee loves Melaka Wan Tan Mee PeimunLeah loves Hakka Lei Cha Hui Sia loves Crispy duck skin from China Karen loves Pan Mee Simple American loves Cheese Enchiladas Nicole Tan loves Char Tau Kueh velverse loves Otak-Otak Giddy Tiger loves Dim Sum Kenny Ng loves Jawa Mee Erina Law loves Wan Tan Mee may loves Roti Bakar King's wife loves Dai gau mee [...]

[...] Monterssorimum loves Teluk Intan Chee Cheong Fun [...]

[...] Mybabybay loves Asam Laksa from Penang, Malaysia JustMyThoughts loves Penang Char Koay Teow My Lil Venture loves Laksa Sarawak Monterssorimum loves Teluk Intan Chee Cheong Fun Chinnee loves Melaka Wan Tan Mee PeimunLeah loves Hakka Lei Cha Hui Sia loves Crispy duck skin from China Karen loves Pan Mee Simple American loves Cheese Enchiladas Nicole Tan loves Char Tau Kueh velverse loves Otak-Otak Giddy Tiger loves Dim Sum Kenny Ng loves Jawa Mee Erina Law loves Wan Tan Mee may loves Roti Bakar King's wife loves Dai gau mee Wuching loves Wood fired oven Pizzas! Dabido loves PIZZA! [...]

[...] Monterssorimum loves Teluk Intan Chee Cheong Fun [...]

[...] Mybabybay loves Asam Laksa from Penang, Malaysia JustMyThoughts loves Penang Char Koay Teow My Lil Venture loves Laksa Sarawak Montessorimum loves Teluk Intan Chee Cheong Fun Chinnee loves Melaka Wan Tan Mee Leah loves Hakka Lei Cha Karen loves Pan Mee Something about Lai loves Crispy duck skin from China Simple American loves Cheese Enchiladas Nicole Tan loves Char Tau Kueh velverse loves otak-otak Giddy Tiger loves Dim Sum may loves Roti Bakar Selba loves Gado-gado Chen loves Satay Doreen loves Hainanese chicken rice rinnah loves Ipoh Chicken Rice Misha loves tim sum in Hong Kong Kenny Ng loves Jawa Mee wmw loves Kuih Tutu Lyrical Lemongrass loves Asam Boi Pinkelle loves Mee Siput and Keropok Lekor LB loves Siew Kai Pai Kuat Tungku Chap [...]

[...] Mybabybay loves Asam Laksa from Penang, Malaysia JustMyThoughts loves Penang Char Koay Teow My Lil Venture loves Laksa Sarawak Montessorimum loves Teluk Intan Chee Cheong Fun Chinnee loves Melaka Wan Tan Mee Leah loves Hakka Lei Cha Karen loves Pan Mee Something about Lai loves Crispy duck skin from China Simple American loves Cheese Enchiladas Nicole Tan loves Char Tau Kueh velverse loves otak-otak Giddy Tiger loves Dim Sum may loves Roti Bakar Selba loves Gado-gado Chen loves Satay Doreen loves Hainanese chicken rice rinnah loves Ipoh Chicken Rice Misha loves tim sum in Hong Kong Kenny Ng loves Jawa Mee wmw loves Kuih Tutu Lyrical Lemongrass loves Asam Boi Pinkelle loves Mee Siput and Keropok Lekor LB loves Siew Kai Pai Kuat Tungku Chap day-dreamer loves Secret Recipe Chocolate Cakes jas loves oyster meat balls [...]

[...] Mybabybay loves Asam Laksa from Penang, Malaysia JustMyThoughts loves Penang Char Koay Teow My Lil Venture loves Laksa Sarawak Monterssorimum loves Teluk Intan Chee Cheong Fun Chinnee loves Melaka Wan Tan Mee PeimunLeah loves Hakka Lei Cha Karen loves Pan Mee Something about Lai loves Crispy duck skin from China Simple American loves Cheese Enchiladas Nicole Tan loves Char Tau Kueh Velverse loves Otak-otak Kenny Ng loves Jawa Mee Fatty Poh loves Nasi Dagang Kelantan wmw loves Kuih Tutu Lyrical Lemongrass loves Asam Boi Pinkelle loves Mee Siput and Keropok Lekor Ms Fair Face loves BBQ Sambal Stingray Earthember loves Mee Rebus domestic rat loves Singapore Hokkien Mee [...]

[...] Mybabybay loves Asam Laksa from Penang, Malaysia JustMyThoughts loves Penang Char Koay Teow My Lil Venture loves Laksa Sarawak Monterssorimum loves Teluk Intan Chee Cheong Fun Chinnee loves Melaka Wan Tan Mee PeimunLeah loves Hakka Lei Cha Karen loves Pan Mee Something about Lai loves Crispy duck skin from China Simple American loves Cheese Enchiladas Nicole Tan loves Char Tau Kueh Velverse loves Otak-otak Kenny Ng loves Jawa Mee Fatty Poh loves Nasi Dagang Kelantan wmw loves Kuih Tutu Lyrical Lemongrass loves Asam Boi Pinkelle loves Mee Siput and Keropok Lekor Ms Fair Face loves BBQ Sambal Stingray Earthember loves Mee Rebus  [...]

[...] Mybabybay loves Asam Laksa from Penang, Malaysia JustMyThoughts loves Penang Char Koay Teow My Lil Venture loves Laksa Sarawak Monterssorimum loves Teluk Intan Chee Cheong Fun Chinnee loves Melaka Wan Tan Mee PeimunLeah loves Hakka Lei Cha Hui Sia Jonamum Karen loves Pan Mee Something about Lai loves Crispy duck skin from China Simple American loves Cheese Enchiladas Nicole Tan loves Char Tau Kueh Velverse loves Otak-otak Kenny Ng loves Jawa Mee Fatty Poh loves Nasi Dagang Kelantan wmw loves Kuih Tutu Lyrical Lemongrass loves Asam Boi Pinkelle loves Mee Siput and Keropok Lekor Soo Yin loves Tau Foo Fa [...]

[...] Colleen's little world of thoughts Amelia's reflection of a magical smile Suwan's simpleman Jean's Great Pleasure Mybabybay loves Asam Laksa from Penang, Malaysia JustMyThoughts loves Penang Char Koay Teow My Lil Venture loves Laksa Sarawak Monterssorimum loves Teluk Intan Chee Cheong Fun Chinnee loves Melaka Wan Tan Mee PeimunLeah loves Hakka Lei Cha Hui Sia loves Crispy duck skin from China Karen loves Pan Mee Simple American loves Cheese Enchiladas Nicole Tan loves Char Tau Kueh velverse loves Otak-Otak Giddy Tiger loves Dim Sum may loves Roti Bakar Selba loves Gado-gado Chen loves Satay* eastcoastlife loves Shanghai Buns Kev loves ??? Bokjae loves Ipoh Sar Hor Fun. Hilary loves Hibiscus Flower [...]

[...] You leave their blog and post link and add to the list below. Colleen's little world of thoughts Amelia's reflection of a magical smile Suwan's simpleman Jean's Great Pleasure Mybabybay loves Asam Laksa from Penang, Malaysia JustMyThoughts loves Penang Char Koay Teow My Lil Venture loves Laksa Sarawak Monterssorimum loves Teluk Intan Chee Cheong Fun Chinnee loves Melaka Wan Tan Mee PeimunLeah loves Hakka Lei Cha Hui Sia loves Crispy duck skin from China Karen loves Pan Mee Simple American loves Cheese Enchiladas Nicole Tan loves Char Tau Kueh velverse loves Otak-Otak Giddy Tiger loves Dim Sum may loves Roti Bakar Selba loves Gado-gado Chen loves Satay* eastcoastlife loves Shanghai Buns Kev loves 蕃薯旦 Bokjae loves Ipoh Sar Hor Fun. cbenc12 loves Satay Celup~ Min loves Pancakes [...]

[...] Mybabybay loves Asam Laksa from Penang, Malaysia JustMyThoughts loves Penang Char Koay Teow My Lil Venture loves Laksa Sarawak Monterssorimum loves Teluk Intan Chee Cheong Fun Chinnee loves Melaka Wan Tan Mee PeimunLeah loves Hakka Lei Cha Hui Sia Jonamum Karen loves Pan Mee Something about Lai loves Crispy duck skin from China Simple American loves Cheese Enchiladas Nicole Tan loves Char Tau Kueh Velverse loves Otak-otak Kenny Ng loves Jawa Mee Fatty Poh loves Nasi Dagang Kelantan wmw loves Kuih Tutu Lyrical Lemongrass loves Asam Boi Pinkelle loves Mee Siput and Keropok Lekor Ms Fair Face loves BBQ Sambal Stingray [...]

[...] Mybabybay loves Asam Laksa from Penang, Malaysia JustMyThoughts loves Penang Char Koay Teow My Lil Venture loves Laksa Sarawak Monterssorimum loves Teluk Intan Chee Cheong Fun Chinnee loves Melaka Wan Tan Mee PeimunLeah loves Hakka Lei Cha Hui Sia loves Crispy duck skin from China Karen loves Pan Mee Simple American loves Cheese Enchiladas Nicole Tan loves Char Tau Kueh velverse loves Otak-Otak Giddy Tiger loves Dim Sum may loves Roti Bakar Selba loves Gado-gado Chen loves Satay* eastcoastlife loves Shanghai Buns arzhou loves hokkien mee / philly cheesesteak [...]

[...] Mybabybay loves Asam Laksa from Penang, Malaysia JustMyThoughts loves Penang Char Koay Teow My Lil Venture loves Laksa Sarawak Monterssorimum loves Teluk Intan Chee Cheong Fun Chinnee loves Melaka Wan Tan Mee PeimunLeah loves Hakka Lei Cha Karen loves Pan Mee Something about Lai loves Crispy duck skin from China Simple American loves Cheese Enchiladas Nicole Tan loves Char Tau Kueh Velverse loves Otak-otak Kenny Ng loves Jawa Mee Fatty Poh loves Nasi Dagang Kelantan wmw loves Kuih Tutu Lyrical Lemongrass loves Asam Boi Pinkelle loves Mee Siput and Keropok Lekor Ms Fair Face loves BBQ Sambal Stingray Earthember loves Mee Rebus crazymommy loves kueh chap [...]

[...] mott loves Blue Pulut Inti and Iced Cendol NomadicMom loves Cendol, Mango Sago Loh, Black Sesame and Peanut Creams, Banana Fritters Mommyof2angels loves crème bulee Joymontessori loves Hakka Lei Cha Mybabybay loves Asam Laksa from Penang, Malaysia JustMyThoughts loves Penang Char Koay Teow My Lil Venture loves Laksa Sarawak Monterssorimum loves Teluk Intan Chee Cheong Fun [...]

[...] Colleen�s little world of thoughts Amelia�s reflection of a magical smile Suwan�s simpleman Jean�s Great Pleasure Mybabybay loves Asam Laksa from Penang, Malaysia JustMyThoughts loves Penang Char Koay Teow My Lil Venture loves Laksa Sarawak Monterssorimum loves Teluk Intan Chee Cheong Fun Chinnee loves Melaka Wan Tan Mee PeimunLeah loves Hakka Lei Cha Hui Sia loves Crispy duck skin from China Karen loves Pan Mee Simple American loves Cheese Enchiladas Nicole Tan loves Char Tau Kueh velverse loves Otak-Otak Giddy Tiger loves Dim Sum may loves Roti Bakar Selba loves Gado-gado Chen loves Satay* eastcoastlife loves Shanghai Buns Kev loves ??? Bokjae loves Ipoh Sar Hor Fun. Hilary loves Hibiscus Flower [...]

[...] Mybabybay loves Asam Laksa from Penang, Malaysia JustMyThoughts loves Penang Char Koay Teow My Lil Venture loves Laksa Sarawak Montessorimum loves Teluk Intan Chee Cheong Fun Chinnee loves Melaka Wan Tan Mee Leah loves Hakka Lei Cha Hui Sia loves Crispy Duck Skin from China Karen loves Pan Mee. Simple American loves Cheese Enchiladas Giddy Tiger loves Dim Sum CC loves Turkish Chicken on Rice [...]

[...] Mybabybay loves Asam Laksa from Penang, Malaysia JustMyThoughts loves Penang Char Koay Teow My Lil Venture loves Laksa Sarawak Montessorimum loves Teluk Intan Chee Cheong Fun Health Freak Mommy loves Dim Sum from KL, Malaysia Mama's Bag of Tricks loves Hakka Mee from Seremban, Malaysia Marsha Maung loves Prawn Mee [...]

[...] Colleen's little world of thoughtsAmelia's reflection of a magical smileSuwan's simplemanJean's Great PleasureMybabybay loves Asam Laksa from Penang, MalaysiaJustMyThoughts loves Penang Char Koay TeowMy Lil Venture loves Laksa SarawakMonterssorimum loves Teluk Intan Chee Cheong FunChinnee loves Melaka Wan Tan MeePeimunLeah loves Hakka Lei ChaHui Sia loves Crispy duck skin from ChinaKaren loves Pan Mee Simple American loves Cheese EnchiladasNicole Tan loves Char Tau Kuehvelverse loves Otak-OtakGiddy Tiger loves Dim Summay loves Roti BakarSelba loves Gado-gadoChen loves Satay*eastcoastlife loves Shanghai Buns Kev loves 蕃薯旦Bokjae loves Ipoh Sar Hor Fun.cbenc12 loves Satay Celup~ [...]

[...] Tag Mode: You leave their blog and post link and add to the list below. Mybabybay loves Asam Laksa from Penang, Malaysia JustMyThoughts loves Penang Char Koay Teow My Lil Venture loves Laksa Sarawak Monterssorimum loves Teluk Intan Chee Cheong Fun Chinnee loves Melaka Wan Tan Mee Peimun Leah loves Hakka Lei Cha Hui Sia Jonamum Karen loves Pan Mee. [...]

[...] Monterssorimum loves Teluk Intan Chee Cheong Fun Chinnee loves Melaka Wan Tan Mee PeimunLeah loves Hakka Lei Cha Hui Sia loves Crispy duck skin from China Karen loves Pan Mee Simple American loves Cheese Enchiladas Nicole Tan loves Char Tau Kueh velverse loves Otak-Otak Giddy Tiger loves Dim Sum may loves Roti Bakar Selba loves Gado-gado Chen loves Satay* eastcoastlife loves Shanghai Buns Kev loves ??? Bokjae loves Ipoh Sar Hor Fun Cooking Momster loves Penang Heah Koh Chee Cheong Fun Blur Mommy loves Clam Chowder Mommibee loves Dominos Spicy Chicken Kickers LiL'deviL loves [...]

[...] Mybabybay loves Asam Laksa from Penang, Malaysia JustMyThoughts loves Penang Char Koay Teow My Lil Venture loves Laksa Sarawak Monterssorimum loves Teluk Intan Chee Cheong Fun Chinnee loves Melaka Wan Tan Mee PeimunLeah loves Hakka Lei Cha Hui Sia loves Crispy duck skin from China Karen loves Pan Mee Simple American loves Cheese Enchiladas Nicole Tan loves Char Tau Kueh velverse loves Otak-Otak Giddy Tiger loves Dim Sum may loves Roti Bakar Selba loves Gado-gado Chen loves Satay* eastcoastlife loves Shanghai Buns Kev loves ??? Bokjae loves Ipoh Sar Hor Fun Cooking Momster loves Penang Heah Koh Chee Cheong Fun Blur Mommy loves Clam Chowder [...]