Sep 14 2007
Hits for this post:9339
Recently I have sorted and rearrange all the toys. I've tried to put most of the montessori materials together so it's easily accessible by the kids.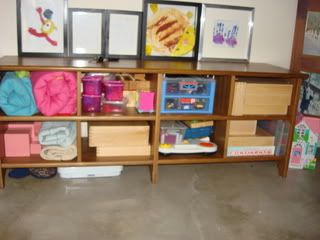 After sorting it out, I realize over the months , I have "collected" quite a handful of materials. Almost can run a school already.
These are the materials I have:
LMA
Sandpaper numerals,  strokes, letter
Dressing frames (button and ribbon)
3 Pink Object boxes
Treading Beads
Cutting Fruits
Continent Map
Sandpaper Globe
Homemade spindle box
Pink Tower
Cards & Counters
Mini red rods
Mini number rods
Mini knobbed cylinder
Bead stairs
Hundred bead chain
Contructive Triangle (3 boxes)
Knobless Cylinder (Red box)
Touch board
Color tablets
Binomial cubes
Hundred Boards
Golden beads for decimal
stamp game
snake game
Folding cloth
Home made sequine board
Home made large number cards
Addition strip board
Subtraction strip board
multiplication board
division board
Mat, trays, jug, tongs, bowl, marble, peg, clips ,syringe etc etc for PLE
I should really stop buying materials, else I will run out of place of storing them and turning my home into a school.

Blogsphere: TechnoratiFeedsterBloglines
Bookmark: Del.icio.usSpurlFurlSimpyBlinkDigg
RSS feed for comments on this post
8 Responses to "Montessori Materials At Home"
very nice shelf, is it custom made?

Off the shelf. 

wow… u hv so many of those montessori stuff, I only have two out of your 33 items above….. will slowly get them

Got many doesn't mean fully utilized. Really need to put more time down to spent with the kids and work on the materials

Wah.. That's a lot!

Now you know how kiasu I am

Elaine, i was looking for a shelf storage like this. Must really visit your house la one of these days…!

Don't know where hubby got this shelf from. I think it meant to be a shoe rack.. most of our furniture are ikea..but this is definitely not IKEA. No brand. :DÂ 

You are most welcome to my house. Sg Long to Sban not that far …

Wow, those are good stuffs. Montessori method is good but not all montessori schools are good. I wonder why?

Not all montessori schools are good because people who runs it might not have the true understanding or simply too profit minded

#

forgetfulmama

on 21 Dec 2007 at 5:48 pm

elaine, i nearly went to ur blog everyday. i have intention to diy at home, pls suggest whether to buy or diy n some good supplier for the aparatus…

Sorry..haven't got time to reply your mail. Will do so when I come back from holiday

wow… i love to have a quarter of what you have

I stop buying already. I wish to have a quarter of your CD and wipes collection too.

#

Alice

on 09 Jan 2009 at 10:03 am

Hi Elaine
Would like to check where did you get the Constructive Triangles, Binomial cube? How much does it cost?

I collected my materials from various sources online. Often when there's discount. Can't remember how much the set cost me, and I think the site I got my constructive triangles already no longer in business.