May 07 2008
Hits for this post:2042
It has been more than a week since JL started solid. Initially I started off with only 1 meal a day . That arrangement lasted for 4 days and I needn't have to do a lot of cooking. It's just some fruits together with the commercialized rice cereal. But on Friday, I increased it to 2 meals a day and over the weekend, she's already on 3 meals a day.
Morning, she's still having the off the shelves rice cereal either mix with water or breastmilk and some day I add apple pureed into it. Lunch and Dinner is always home cook pureed porridge of organize brown rice with assorted vege.
So far she has tried : Pumpkin puree, apple puree, apple + cereal, sweet potato porridge, avocado with breastmilk, potato with broccoli + breastmilk, pea with brown rice, baby carrot with brown rice and she likes wholemeal bread too which I peal into small pieces to feed her while feeding her the cereal.
I enjoy preparing baby's meal, because it's satisfying to see her gulping down the cereal, unlike the older kids where I spent so much effort preparing something for them and because they are such picky and fussy eater, sometimes they don't really eat what I've prepared which is very disheartening. And though it takes a little patient to feed baby spoonful by spoonful, but I enjoy seeing baby eats than compare to seeing the 2 older kids eat.
Since I only started one meal (breakfast ) a day with JL, the two older kids didn't actually get to see baby's first taste and when they finally get to over the weekend, there were very excited. In fact I find them a little nuisance around baby when I try to feed her. They are very excited food tester as well as "bandaraya" (to clean up baby's left over food. I'm amaze how they suddenly like baby food when they have actually grown bored and sick of it)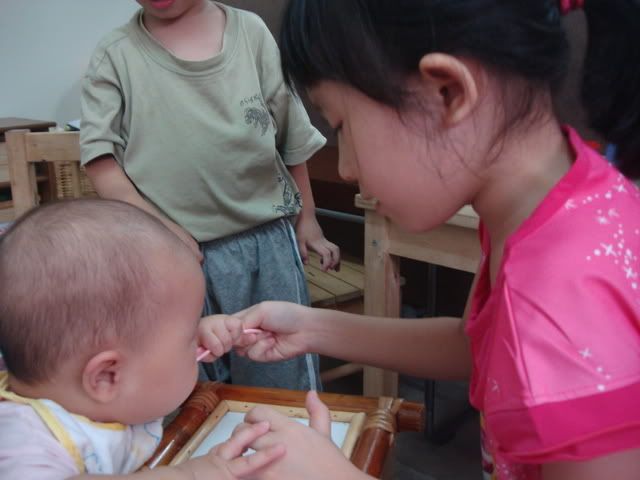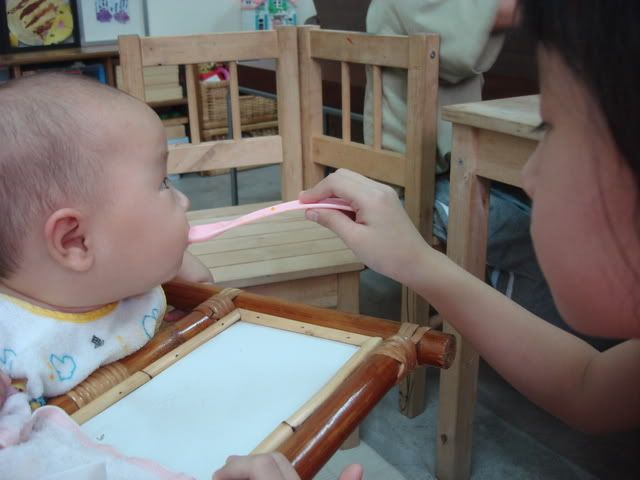 They want to help me feed baby and when I'm feeding baby, they keeps talking to baby to distract her. Like "mei ah…you so clever hor…eat more..open your mouth" "mei ah..nice or not, mummy cook very nice" "mei ah..eat properly" and at the same time, they keep stroking baby's head. Baby can't even have her meal in peace.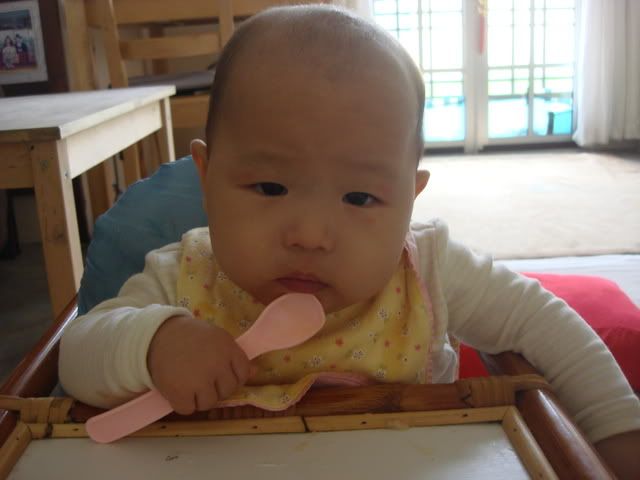 She wants to feed herself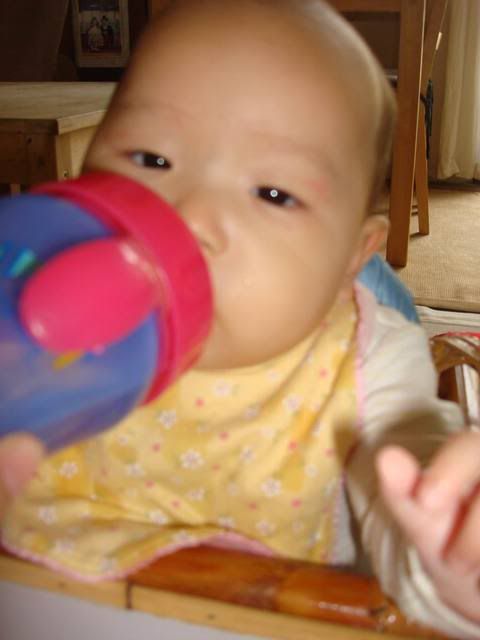 and yea!! she knows how to sip from the sippy cup.

Blogsphere: TechnoratiFeedsterBloglines
Bookmark: Del.icio.usSpurlFurlSimpyBlinkDigg
RSS feed for comments on this post
3 Responses to "JL's Mealtime"
Everyone is sooo helpful n excited to see little meimei eat solid…

more on disturbing rather than helping

Hi.. Just wondering what is the secret in making baby eat their porridge. My boy just simply refuses to eat his porridge. He would be open to all food except porridge. *sigh* Its been about one half month since I tried… such a fussy eater.

don't know any secret. You blend your porridge to puree form? All other food are you offering your boy?

i think the mummy , the chieh chieh and the kor kor more excited about baby's first solid than baby herself, yea?

Mummy not so excited la, coz more work .