May 07 2008
Hits for this post:1903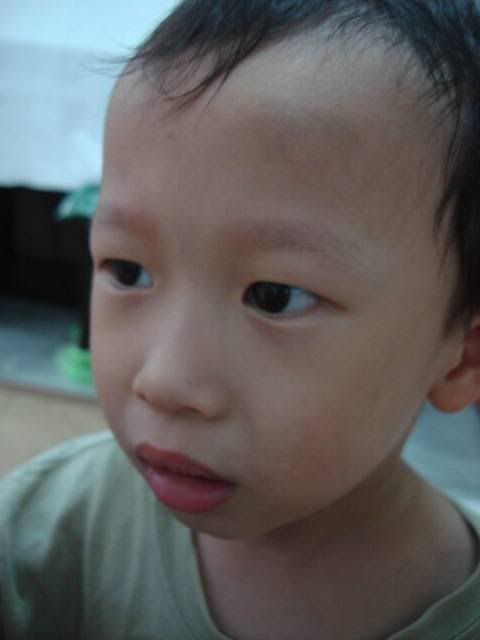 This happened on Monday after school. The two monkeys been over friendly with each other and playing rough. I think JS was holding WH's hand and swirl him around. I heard all the silly giggles until a loud thump followed. My heart lost a beat and when I turn back and look at them, WH was on the floor crying. I knew he had knocked his head on the floor as I hear the thump, but all the while he was crying , holding on to his left index finger which was red and a little swollen and never complain about the knock on his head. And I didn't know which part of the forehead he has knocked on.
JS must have hold on his finger and swirl him in great force. The pain on his finger must have overwritten the pain on the forehead. I only checked on his finger, rubbing it and trying to see if there's any broken bones.
Only on Tuesday , I saw this "beduku" (bruise bum) on his forehead.

Blogsphere: TechnoratiFeedsterBloglines
Bookmark: Del.icio.usSpurlFurlSimpyBlinkDigg
RSS feed for comments on this post
One Response to "Beduku"
#

sasha

on 07 May 2008 at 5:49 pm

ah i call this flower horn! Jayden is also a flower horn lately hahhaha

haha..looks like buah duku more wor