Jul 25 2008
Hits for this post:2894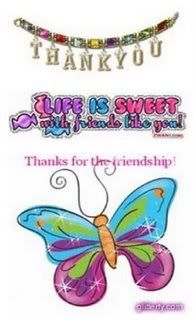 Christene from Allthingspurple gave me this award. I wish I can give this award back to her too.
Thank you so much Christene.
Being a SAHM has narrowed my social circle. If it's not of blogging and all the friends I have made through blogging, I think I will go nut especially during down time.
I would like to dedicate this to
1. Celine
2. Shireen
3. Barbara
4. Chin Nee
5. Jo-N
6. Hui Sia
7. Miche

Blogsphere: TechnoratiFeedsterBloglines
Bookmark: Del.icio.usSpurlFurlSimpyBlinkDigg
RSS feed for comments on this post
4 Responses to "Friendship Award"
Thank you Elaine. You are a dear friend to me but I have to apologize for not being able to drop by everyday. I have slowed down as I have too many things to focus on. In September, I would be maidless and I can't imagine myself blogging. Can I ever do it?

Not going to extend your maid's contract? I'm sure you will still be able to steal some time to blog.

Thanks for this award Elaine. I appreciate your friendship very much too.

thanks for the award, Elaine. great to know you…though we have not met yet

We will meet one day.

so thoughtful of you, thanks a lot, Elaine!

You are welcome