Feb 25 2009
Hits for this post:3661
Some activities we have done and still doing for 2 months already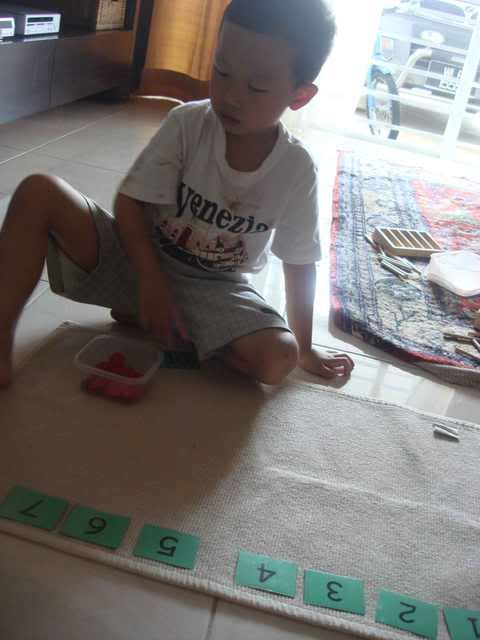 Cards and counters
He has no problem lining up the number card in sequence. He is able to placed the counters up till five and from six onwards he needs to go back and start counting from one again. He cannot name the numeral from 5 onwards. Did 3 period lesson, always have problem when comes to the 3rd period which is the naming part. No problem pointing to the number I called out for.
My other approach now is to teach him the numeral name in Chinese, perhaps he finds it hard to register and pronounce the sound "f" for five.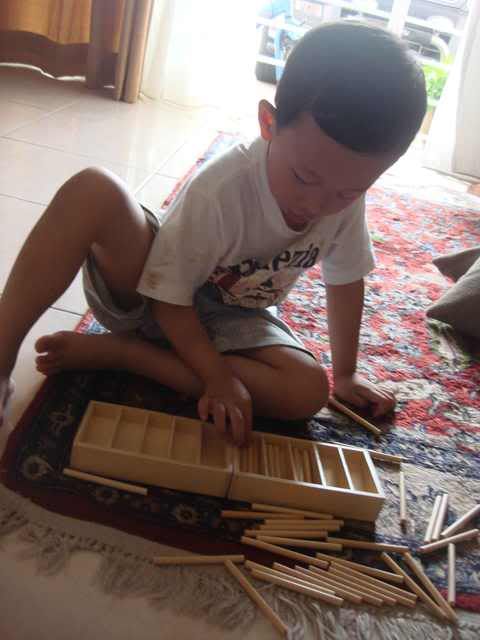 Spindle box
Tested him a few times, each time he is able to place the correct amount of spindle in the box without any help.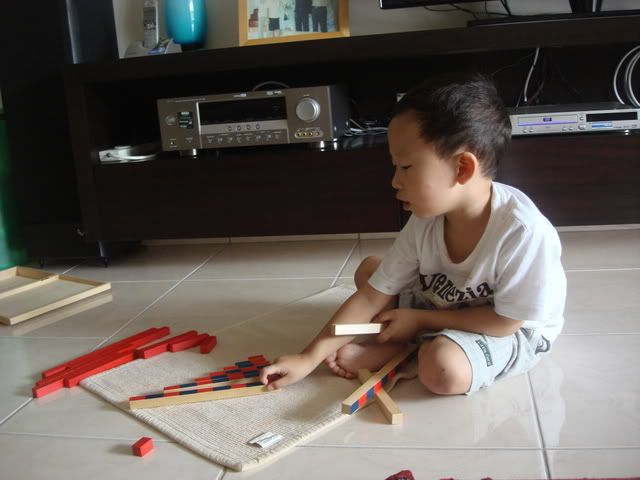 No problem with red rods and number rods
Working with mega blocks and number cards
Initially I thought instead of using the counters, I shall try something that can attracts him, which is his toys. All I wanted him to do was just place the correct amount of blocks in correspondent to the number on the cards. But he came out with a more creative way. For number 1, he only put ONE block and ONE level. number 2, he puts two levels of blocks and so on. He did the addition and leveling the blocks himself until number 5 and from number 6 onwards, he needs reassurance.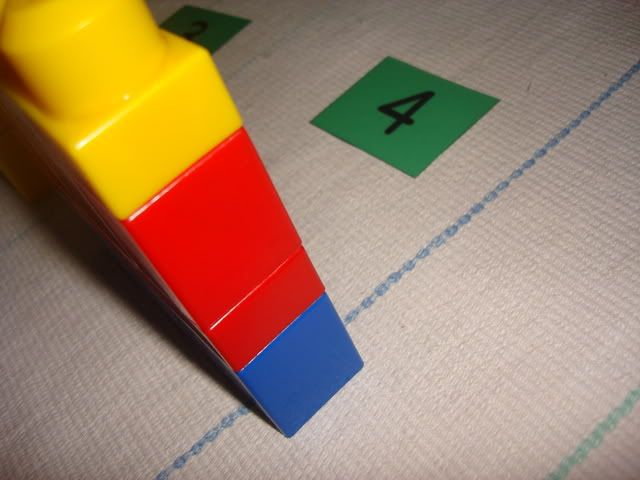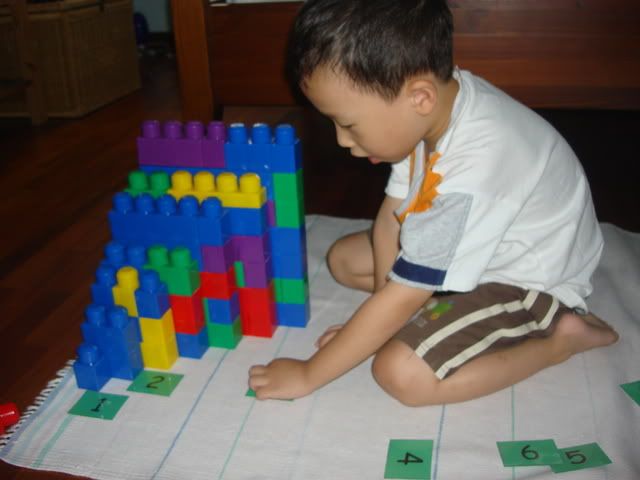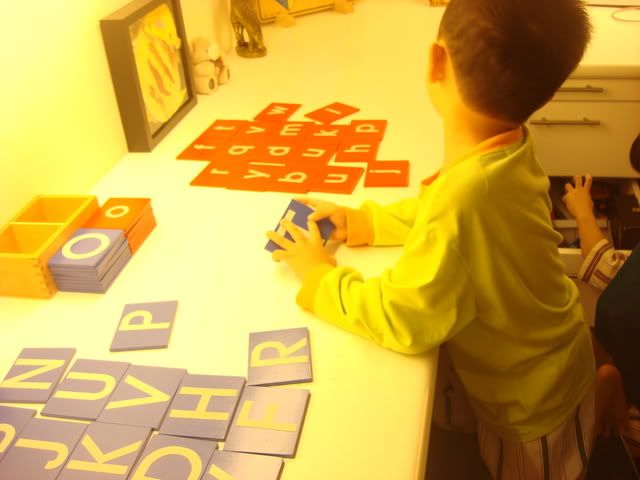 Working with alphabets. Some recap work for what he has done and learned in school.
Now , I am not sure if he is dyslexic or he is just ain't ready. Two days ago, he is able to flip to the correct place and read the Chinese words for me, so shall I just be convinced that he is not ready, the teacher is right that he is actually learning school and stop feeling stress up?
I kept telling him he has to learn all his number, so that at least he can call us on the phone. I am scaring him that if he doesn't learn the numbers and if the bad people catch him and he wants to call us to look for help, he won't be able to. He wants to learn, like he would ask me how to spell certain words, he likes to do home work but the work is not registering in his mind.

Blogsphere: TechnoratiFeedsterBloglines
Bookmark: Del.icio.usSpurlFurlSimpyBlinkDigg
RSS feed for comments on this post
8 Responses to "Teaching Numbers"
Give him time. Dont stress urself and also him.

I really should learn to relax and follow his lead

Don't worry. Looks like he's interested to learn which is a good sign. Have you tried letting him take the lead instead while you create fun activities to incorporate learning?

That's what I have been doing, learning through play.

Ei, Elaine, he is still so young leh. Kimberly didnt even go to kindy till she was 6 when she come back to live with me. Even though i paid throughout those years, my Mil never did send her, not daily anyhow, maybe like once a week, about an hour or two max. I would say not to worry about it. Kids catches up very fast, once u put them to it.

I hope so

i think Jeriel also the same hi hi…maybe boys kua….

conclusion…boys are like that.

both of us are kiasu mommy bo ha? My babysitter said ipushed Yang too hard woh…

your Yang younger than my WH le.. my WH in K1, another one year in kindy then he will be primary one already.

wow, you are so creative and have all the tools to teach your kids. since he knows how to add and level the block, i am sure he is fine.

That's what puzzling me. How come he can add but not learning the name of the numerals.

Yang is 4 now liao leh… i start worried liao.

Like what the other mummies say, relax and let him takes his lead

#

wp

on 03 Mar 2009 at 11:29 pm

Give him some time.
I find the Mathstart books (http://www.stuartjmurphy.com/) very nice for kids to read and learn numbers through the stories.
Try playing games that involves numbers like snake and ladder, etc.

We have all sorts of fun books about numbers and we do play snake and ladders as well as UNO and other games involved numbers. He really have no problem counting, he knew those numbers , just can't shout out the name.