Mar 11 2009
Hits for this post:2336
Before we moved from Seremban, I have my Montessori materials arranged on the shelf in the living room (here). Then they were all packed away for a good 3 months in the box. When we were renovating the house, hub didn't allocate a playroom for the kids, though I have always dream to have a room that resemble the Montessori prepared environment at home. That did not materialized. I have allocate one part of the cupboard in the guest room downstairs solely for Monte Material.
After 4 months, I found that this is not the most ideal arrangement.
The kids usually do their homework upstairs at the study area. That is our home lesson area and they play downstairs more often. But we have placed quite a number of toys in WH room on the rack. It is quite troublesome when I am tutoring them and need the materials, I have to run downstairs to fetch them and they ended sitting on the study table after used (for convenient sake) and the study table is getting messier.
I have decided to rearrange all the toys and the materials. Brought up almost everything from downstairs except the cultural and PLE materials still remain downstairs. Art and craft supplies has been placed downstairs now.
Due to space constraint, this is by far the best I can arranged. Budget constraint also doesn't allow me to have the full range for apparatus at home.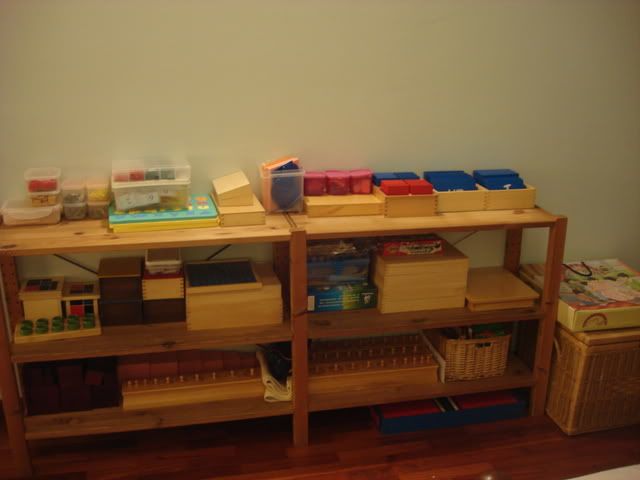 Blogsphere: TechnoratiFeedsterBloglines
Bookmark: Del.icio.usSpurlFurlSimpyBlinkDigg
RSS feed for comments on this post
One Response to "Montessori Materials"
forgot to ask to see all your Mont suffs when i was over during CNY, hehe…

make another trip to my house.