Apr 26 2009
Hits for this post:46651
Nature table can be found in both the Waldorf and Montessori environment and yet they are different.
A Montessori Nature Table/Shelf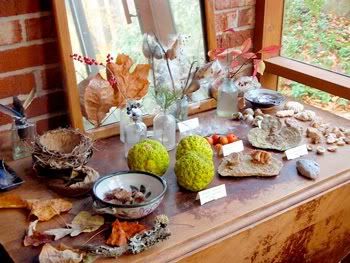 A little table or shelf, in the home or classroom, dedicated to a changing array of beautiful objects from nature, is a delight to children. Some suggestions are a vase of flowers, leaves, a colored leaf in the fall, or a plant experiment (from the biology curriculum for the 3-6 class).

It is important to keep this area very clean, beautiful, and constantly changing. A little tray with a magnifying glass could be kept on the nature table for closer observation.

In the 3-6 classroom a plastic mat, bucket and sponge; and a small drying towel are kept on a tray under or near the nature table. One of the favorite activities is to carefully clean the table and the items on the table. Lay out a plastic mat and carefully remove everything from the shelf. If there are dry leaves or soil, show the child how to wipe them off the edge of the table and into his hand. Next show him how to dip and wring out the sponge, and to wipe the top of the table and the legs. With a drying cloth dry everything. Wipe and dry the plastic mat, then clean the sponge, hang the drying cloth up to dry and replace it with a fresh one. And replace the items on the table, letting the child decide on their arrangement.

Now the child knows how to carry out this activity at any time, independently of an adult's permission. This gives the child the feeling of really caring for the beautiful objects and not just looking at them.
A Waldorf Nature/Season Table  – May give an impression of an altar and usually decorated with drape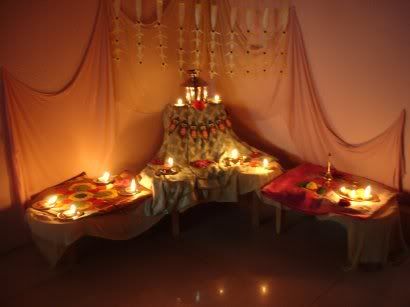 A nature table or seasonal table can be whatever you want it to be.  Simple or elaborate.  The important aspect is that the child is able to connect with the objects and the scene depicted on the table.  Generally, the scene will be related to the current season or an upcoming festival or holiday.  The nature table is often the focal point of a Waldorf kindergarten classroom with the scene on the table directly related to the day's activities.

Blogsphere: TechnoratiFeedsterBloglines
Bookmark: Del.icio.usSpurlFurlSimpyBlinkDigg
RSS feed for comments on this post
3 Responses to "Nature Table"
wow…reading all about your postings on waldrof makes me wanna go nuts liao! Salute you for all the energy. And the doll play thing surely looks nice. a friend of mine into making dolls too, recently. err….can't just buy any dolls from outside as replacement?

hehe..writing for my own future reference …no need to check bookmarked or google for it.

#

Evelyn Poh

on 28 Apr 2009 at 9:12 pm

Hi Elaine,

As much as I truly admire your perseverance and passion on providing the best learning environment for your kids ( from your write-up on Montessori and Waldorf ), but have considered how your children will be able to adapt themselves once they enter into a Chinese primary school?

As you would have already known, the Montessori method is more on child-centred, where the children are given the opportunity to explore things at their own pace. But as you know, the Chinese primary school system is very fast-paced and is exam-oriented. I was just wondering if these children who were "Montessorian" would be able to assimilate into the Chinese school system. They might have anxiety attacks, or worse still, the teachers may label them as being "slow-learners" just because "they take their own sweet time on doing things".

And remember, Montessori has a lot of toys to build on the senses, but the current school system only focuses on workbooks and exams.

Since Montessori emphasized a lot on phonics, these children may have the advantage in terms of a better command and grasp of the English Language, but Mandarin is being sidelined.

Perhaps a discourse can be done on this matter. I too, would loved my children to be homeschooled and learn things at their own pace, but because of my decision on sending them to Chinese schools, I have decided to send them to regular kindies instead of Montessori.

The most important is how you strike a balance. Many of the Montessori school in Malaysia is no longer full Montessori. In a way, they are preparing the kids to adapt to our school system, hence there's won't be culture shock when the kids enter to primary one especially to the Chinese school. (That's one of the reason why I didn't sent my son to the Waldorf , because they are still very "Waldorf" , and kids might take longer to adapt to our school systems, and most of them go international/private school.

As for teaching Mandarin to kids, we can still use the Montessori approach. Make learning fun like sandpaper strokes , word blocks etc and do not solely have to rely on workbook , ting xie and spelling. What is important is to cultivate the child's love in learning, and preschool years is the best to start and we do not want to instill fear or be to rigid when they are still young that might put off learning to them.

My girl is in primary 1 and in Chinese school. So far I see she is still keeping on her pace and doing quite well. She went to a very relax preschool and was homeschool for about 5 months, before entering primary 1 and she has no problem adapt. Again, the most important is what is your expectation. If you expect your kid to score straight As, get 100 marks for all exam, probably you will feel stress and pressure. If you set the expectation right, the kids will have the right attitude to adapt him/herself in school.


Hi, I was reading your reply to EP's comments. Would like to share about lil C's schooling.

We have informed lil C's school that we are not going to send him to the same school next year, mentioned about homeschool etc. Anyways, if didnt go well with our homeschool journey , we would send the kids to a school environment which is not exam/result-oriented… its quite tough to look for one, but there's one homeschool centre that doesnt give so much homeworks to the students. hmm… I know a lot of parents would rolled eyes on our decision, but I think for the kids' development esp in creativity. I believe that too much homework brings diminishing returns. Nowadays children are learning anything, the sad thing is that the quality of learning is poor. Children merely memorising and do not understand what they learn. It'll even worst if asked to demonstrate application of knowledge. They are certainly not developing critical thinking skills. All they did was to make sure to pass exam. It is sad, but its the truth!

Anyways, different parents sees things differently. Its good that you do a lot for your kids despite them going to school. (A lot of parents trust school/teachers/tuition centres taking care of the kids education… )

I still feel bad that we didnt meet up last April. Hope to see you again, dear. Take care & hugs the kids for me!