Jun 07 2010
Hits for this post:3785
All three of them love books and we got a small collection of books at home.  Recently JS commented that she is bored and has got nothing to read. I pointed the many books at home and said that those books are childish. (True though..most books are more suitable for preschooler and my own collection seems too advance for her). I haven't build up a collection of books which is suitable for her age. We tried to buy a few, but that will not be a long term solution as we almost run out of storage for books. Hence I told her we will go rent some books.
Each time I drove around the neighborhood, I have noticed this shop with a big BOOK RENTAL sign. I have made a mental note to drop by for a visit.  We finally during the week JS was having her mid term exam (actually I told her we will only go after her exam, but both of us can't wait).
I always have an impression that a book rental is usually dark and is full of racks and racks of books. Usually novels, love stories. I am  mentally prepared to be disappointed to find books that JS will find interest in.
To our great surprise, this place is spacious, bright and have more books cater for children, it is really a child friendly place. Children picture books, parenting books, recipe books both in Chinese and English.  They are arranged nicely on shelves, not racks.
One great discovery is that they have story telling session twice a month. First Sunday , being Chinese version and third Sunday English version.
We went for our first story telling session yesterday. The children loves it, though JL appears to be shy with both the teachers.  It was an interesting session which the children enjoyed.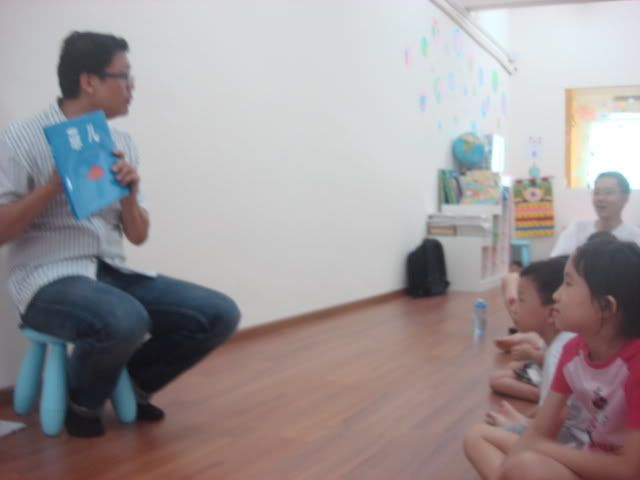 Teacher Ng read the first two sets of stories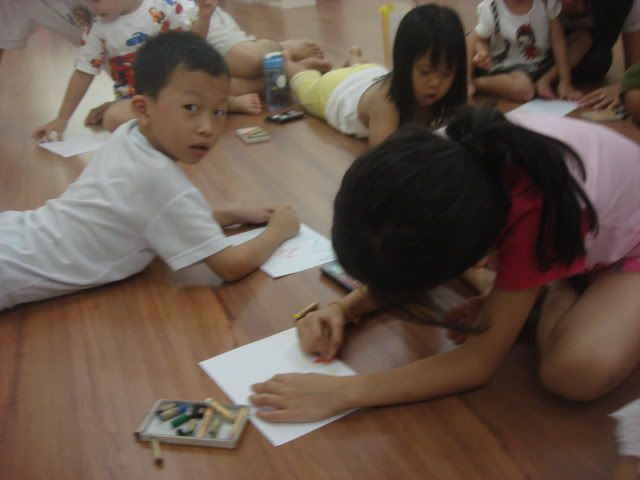 They were ask to do a simple art for the next activity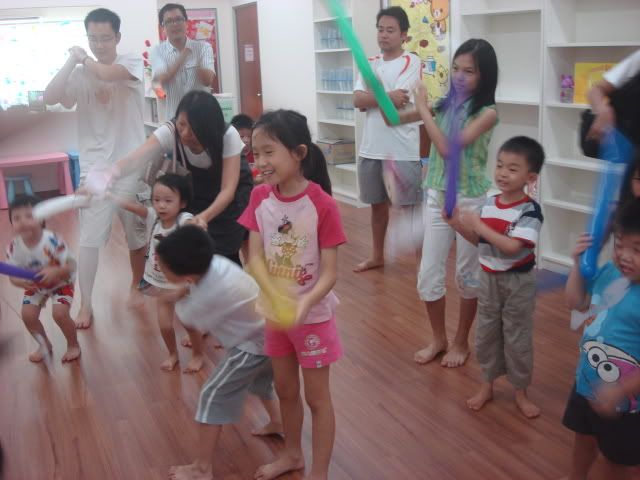 Music & movement using the drawing their made earlier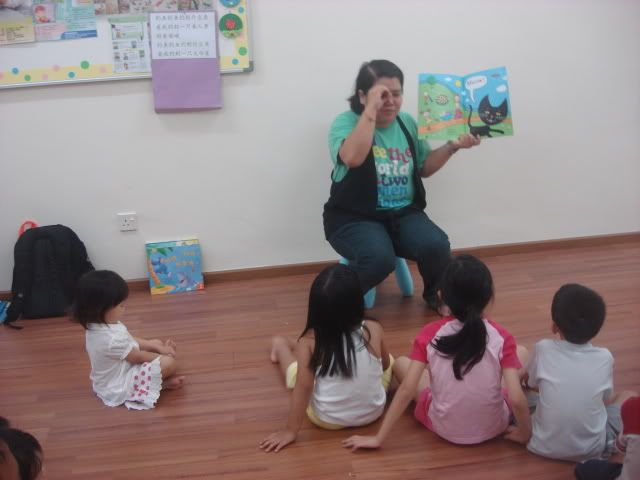 Second set of story telling sessions.
These two teachers are great story tellers, they interact a lot with the children.

Blogsphere: TechnoratiFeedsterBloglines
Bookmark: Del.icio.usSpurlFurlSimpyBlinkDigg
RSS feed for comments on this post
7 Responses to "Book Rental & Story Telling"
Very good activity for the children. Is the story telling session free?

Yes, it's free

#

Winnie

on 08 Jun 2010 at 9:38 am

where is the place? is it in KK?

1st floor, few doors away from 100Yen

#

PY

on 09 Jun 2010 at 9:57 am

May I know where is the actual location? Is it free?

It's FOC. The book rental is in KK, a few doors away from 100 yen shop

#

Michelle

on 10 Jun 2010 at 11:49 am

i googled for book rental (cause my little girl loves to read and books are so expensive to buy) and to my delight, stumble on your site…where is KK? Is it Kota Kemuning? I'm staying in PJ ..thanks dear

yes, kota kemuning, not kota kinabalu.

#

charlene

on 15 Jun 2010 at 10:53 pm

wah! like a comics rental shop idea. How is the charges likes? rental period?

They use the buy and sell back system, actually rental for a book cost RM 1 – RM 3 for a month

dat's really nice. i also cultivate reading habits in my kids cos i always believe the saying that goes knowledge is wealth.

looks like a nice place..may i noe where it is? I oso looking for such places for my kids.

Kota kemuning, shah alam