Sep 18 2010
Hits for this post:2358
I love wearing my baby in the sling. Just like the kangaroo carrying the joey in its pouch. Each time when we go to the park, I always wear her in the sling and we walk there together. In fact I am the only weird one around that is carrying my baby this way. The other parents, grandparents and babysitter all push their young ones there in the stroller.  Often many of them that has good intention often asked me why I don't push baby in the stroller, they seems to think that it is a burden to carry baby that way. One aunty even mentioned that it is not good to carry baby in such close proximity. She won't allow baby to be so attach to her and it is bad for baby to breathe in our breath and take away our Qi.
But babywearing makes my life so much easier when caring them. I enjoy having them near to me. Afterall, I won't get to carry them this way for many years. They will outgrown it soon. I don't want to have regret for being close with them
Look how calm and peaceful baby is .. I don't find it a chore though she wants to be carried like that all the time in order to fall asleep.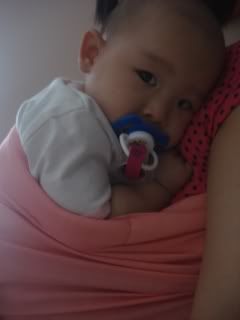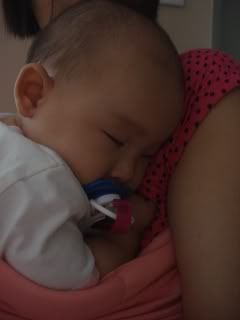 Blogsphere: TechnoratiFeedsterBloglines
Bookmark: Del.icio.usSpurlFurlSimpyBlinkDigg
RSS feed for comments on this post
One Response to "I Love Babywearing"
I like babywearing too! As you said, they will outgrown of it very soon. So better enjoy while we still can.

It is the best parenting experience.