Sep 22 2010
Hits for this post:3360
These are the books we rented today.  (Princess for JL, Earth & Space for WH, Wimpy Kid and St. Clare for JS).  Their choice, though I would much prefer JL to read and be exposed to other pictures book, but she only likes Princess & Barbies.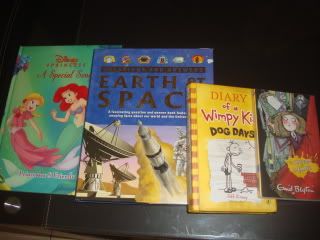 Once a month or twice if we can finish reading faster, we go to the book rental to get books. I don't really buy books anymore as I used to. First, we ran out of space, second, their choice of books are very different. To give them more variety, the best is to exchange books with friends, to the library or in my case where there's no friends and lousy library, we resort to book rental.
I am doing read a loud (one chapter a day) on the Enid Blyton books for JS and WH. Though JS can fairly well read by herself, but she still prefers me to read to her. From pictures books, telling stories, we have now moved on to Enid Blyton's books without pictures. I started off  with the Enchanted Wood series and now we are moving into the 5th book of the St. Clare series. She is reading other books on her own , including Malory Towers series of Enid Blyton's collection. I have long done with the Enchanted Wood series, but recently WH has requested me to read to him, though he still remembers the story line quite well. (Can be quite tiring spending 1 hour nightly reading to three of them, because I have to read three different books, that will only be fair – as according to them. )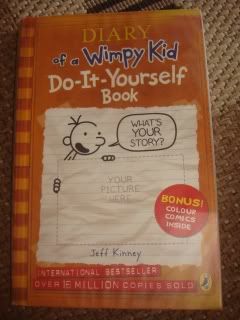 I bought this from the book rental too. They sell books too and can help you order books you are looking for. Such convenient service and so near to home.
I saw JS doing some wimpy kid liked drawing after she read the first wimpy kid book, and this will do her good.
(Daddy even bought the Wimpy Kid DVD for her after knowing she is into wimpy kid)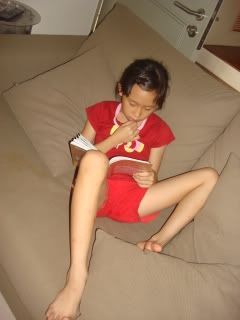 Immersing in the book
Starting work on it…

Blogsphere: TechnoratiFeedsterBloglines
Bookmark: Del.icio.usSpurlFurlSimpyBlinkDigg
RSS feed for comments on this post
One Response to "Books Of The Month"
Book rental is a good idea…
where is the place?

in kota kemuning