Dec 17 2010
Hits for this post:2537
Music should be an integral part of a child's life. Our home is always filled with music, be it the kids singing, music videos played on youtube, songs play on USB downloaded by daddy, music CD of all genre and to the tune of jiejie playing on the piano.
The two little girls love music to bits. They are quite drawn to the piano too. JL will ask for permission to play as and when she likes and when she plays, she sings along in solfege too (as if she knows how to), Sometimes I hear her recite "play fa sharp now" and such alike.
The little one seeing the piano lid is opened or when jiejie is playing on it, she will crawl over to the piano, pull herself up and tiptoed to reach the keyboard and play on it. Jiejie influenced them a lot in this area.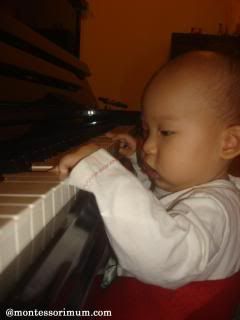 It is good exposure to them. It will be better if they could have some former lesson on it too. I know there's such classes for kids their age like Kindermusik and Musikgarten. But due to time ( if I were to sent them to class, I need to sit in with the child and who is going to take care of the other three?? )  and financial constraint, it is not possible to sent the two young one to such classes. JL will only go for formal music lesson at age four or the earliest at age 3 1/2. (She is definitely going to follow jiejie's footstep to take up Yamaha JMC lesson)
Meantime, I have found a great way to further enhance their music knowledge and interest without having to sent them to lesson.  What's great is all four kids can learn together. This great way is no other than Trebellina. All thanks to Parent Reviewers who sent me this instructional DVD.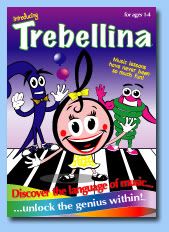 We put on the DVD the moment we received it. JS immediately recognizes the treble clef and bass clef. (But she couldn't guess what the green swirly thing is..neither do I). Since we are so use to singing "DO RE MI FA" at home, the kids need sometimes to get use to the English Note Names ( as in C, D, E, F, G etc). I have to keep telling them that C = Do, D = Re . But it is good reinforcement for jiejie who is now learning to read notes as in English form instead of solfege.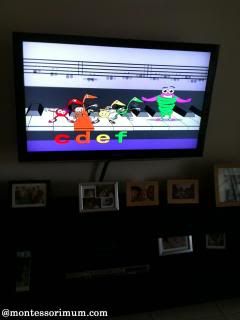 Besides note reading, the DVD also features lesson on learning the instruments, music appreciate with some familiar tunes. It even mentioned about who invented the piano (which I myself didn't know even though I have been playing the piano since age 7 and have ABRSM Grade 7)
This is certainly a Must Have DVD if you want to introduce music to your young toddler and don't have the time to sent your child to infant/toddler music classes.

Blogsphere: TechnoratiFeedsterBloglines
Bookmark: Del.icio.usSpurlFurlSimpyBlinkDigg
RSS feed for comments on this post
One Response to "Music Lesson At Home For Little Ones"
The green swirly thing is mentioned in the DVD itself. It's called "rhythmo". it just teaches rhythm.

We found out about it after watching a few times.