Feb 08 2007
Hits for this post:2987
When JS was younger and even for WH now, how I introduce maths was the numbers nursery rhymes and I also had the counting game when we play, like when bouncing the balls I count, when walking, we count the steps and also walking up and down the stairs we count the steps.
I also taught JS when I was baking. Doing subtraction using the eggs. I show her how to measure using the scales…etc etc.
After she has learned to write the numbers and knew counting from schools, I taught her sum using the very conventional way. Drew pictures on the paper with a box under the pictures, get her to count , jot down the numbers and do the sum. (until today she still ask me to draw for her to do the sum…for fun I guess)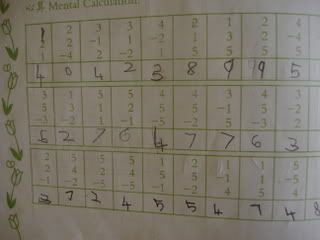 She can do these sum using the abacus by herself. But I have stop the lesson and I don't really know how to use the abacus. (shame on me….never learned that in school before)
We now do maths a more different way at home besides the drawing her letting her count occationally
  cards and counters. Used the sandpaper letter I made. Hopefully she would realize what's even and odds. It's a simple activity for her age, but as long as she enjoys it, it's ok…WH always tagged along beside to watch.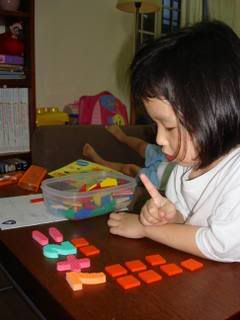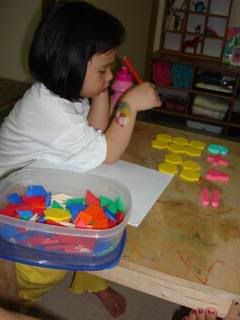 (noticed the way she placed the counters? I didn't teach her that, it was what she learning by placing the cards and counters in the earlier activity)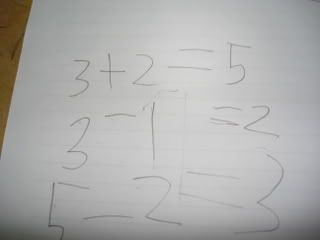 Doing recording, still very visual and not abstract as what she's learned using the abacus. Slowly I will move on to more abstract.
I can easily buy maths work books for her to do (widely available in the market)Â , get her count and colours, but it seems a little bored to do that way. Trying to do it in a way that will attracts her.

Blogsphere: TechnoratiFeedsterBloglines
Bookmark: Del.icio.usSpurlFurlSimpyBlinkDigg
RSS feed for comments on this post
3 Responses to "Maths Lesson At Home"
i really got a long way to go…must take time go thru ur blog and get something done for my girls, have been neglecting them in terms of learning since i got my boy. *sigh*

no need to sigh and push yourself so much. You are a working mum with three kids and the youngest is still so young, in juggling time wise will be a little hard. Never easy to be a parent and we wish to have so much time to do so much.

I use the beads method to teach my girl maths. I teach her by using her fingers too (cos until now she's only learning to add until 10). Luckily for me dat she's interested in adding and subtracting.

Good for Des to have interest in Maths. Maths is something not as horrible as one think. JS also still using the very concrete counting methods , hoping to move to be more abstract soon.

when i browse thru your old post, can't help but telling u that JS look so cute when she is chubby :)))

Now she's less chubbier hor?! She has grown taller , lost some baby fat