Jan 06 2012
Hits for this post:5322
We are school goers with the unschool mentality.  Yesterday, we had our first study visit/outing with a bunch of homeschoolers.
We went to Gardenia bread factory in the afternoon. This visit was organized by a homeschool mum of a homeschool support group I've joined.
My kids are school goers, but I am very much gear to unschooling. For some reasons, I still not able to pull them out from school, so I am trying again to strike a balance between them, trying to let them get the best of both. I still strongly believe that knowledge from books in monotonous. I want them to go out the field, experience and feel what they are not learning from books. I want them to be able to think and not memorize. I want them to be able to ask questions, mingle with different groups of people. So yes, this will be our first visit of the year and hope there will be many more to come (trying to fight for a seat for a feb outing..it's full booked!!)
We were suppose to meet at Gardenia at 2.30p.m. Was earlier contemplating if I should let WH skip school to join us, but after much pondering, I didn't mention about the trip to him. It is just the second day of school..not so good to ponteng, if in the mid of schooling term, I will sure let him go.
Anyhow, I thought I will be able to find the place, as each time when we go to Klang, we will see the factory from the highway. Also, I see a lot of Gardenia trucks in our neighbourhood, using the shortcut to access to the factory.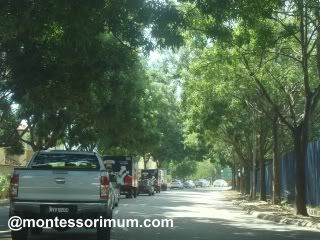 The smart alec me assume that that is the ONLY gardenia factory and it will be no wrong following the truck to the factory.
Tailing the truck to some narrow windy bumpy road. JS said " I didn't know there's a kampung so near our house!"  But when we arrived at the factory, we were told that it is not opened to public. The one that is open to public is at Shah Alam.
So I had to rely on my GPS to bring me to the right destination and we were 10 minutes late. But the fun part is the joy ride we had. We probably would never have ventured to that part of town and accessed that road shall we had not follow the truck. So we discovered new place.
At the factory, the guards were friendly. They shown me where to park (double park) and there's already a PR waiting at the guard house, handling visitor pass to us and usher us to the first floor meeting room.
There's another PR lady already in the room with the whole bunch of homeschoolers. She gave a brief intro and then we were shown a PR video. Since we have so many children in the group, we opted for a kids version PR video.
Then we were brought to the production floor. Not exactly into the production ground, but it is a specially design area, air conditioned , on first floor overlooking down to the production floor below. When we were walking through the walkway leading to the special observation area, we can feel the heat.. the heat eliminated from the huge ovens!!
We were not allowed to take any photos or videos of the production line. But the cooling tower is so awesome and spectacular, I can't resist to sneak a picture with my phone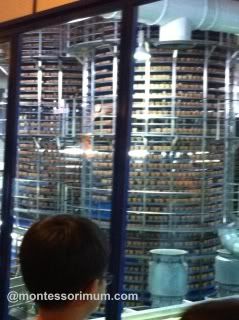 The kids were given explanation on the process of bread making, the machine of each process is shown to them. In this factory alone, they are producing 8000 breads in an hour!!
After a stop over at the production line, we were ushered back to the meeting room again where there's a Q& A session. Snack is served too. Waffles for everyone, plain water for kids and coffee for adults. (Free flow of drinks)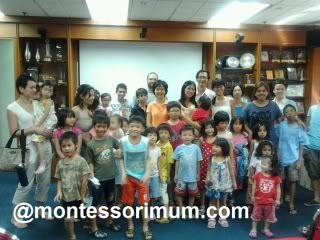 Group photo before we leave
Everyone gets a goody bag on the way out.
The goodies… it's butterscotch bread..not plain white bread!!

Blogsphere: TechnoratiFeedsterBloglines
Bookmark: Del.icio.usSpurlFurlSimpyBlinkDigg
RSS feed for comments on this post
3 Responses to "Visit To Gardenia Bread Factory"
do we have to pay to visit the factory?

No need, but need to put in application and have a minimal headcount

May i know where can i find the info or register for this kind of homeschooling activity? Please advice. Thanks.

Hi Elaine,

Love reading your blog! It is great!

I am a house mum and am looking for school for my 4 years old son.

We stay at Pantai Hillpark. My son have attend Lil Sprout Montessori at Panaroma Condo for 2.5 months at last August. Nearly every morning he does not want to go, refused to left house, screaming/crying outside school gate, hiding at car. Teachers reckon he was not ready for school. so we stop at Nov.

Since then I visited few kindergarten with Z:
*Taska Fairview (@ PJ) – nice outdoor facility & toys. but not Montessori
*Tulip Montessori – too expensive
*My Montessori – Poor outdoor toys/facility maintenance, has Chinese classes
*Taska ABC – mainly nursery, claimed to use Montessori/thematic / learning when playing approaches.. no Chinese classes
*Tadika Junior Juara Ceria ( happy Champs) – new school 1 years, not Montessori, Chinese base, nice outdoor.

He seen to be fine with all these schools.. we were there for at least 2 hours each of them. My guess is he really like to play with the kids at each of them and enjoy the outdoor very much.

I have trying to contact Taska Jauty Montessori, but they are not at their address and no answer on phone. Do they close down or move? do you have the contact?

I want to send Z to Chinese Primary school but I would want him to enjoy learning / making friends before all the heavy load homework

Do you know any other Montessori at Bangsar or near PJ area?

Appreciate your help

Anxious Mum

Hi, I am sorry, I am not familiar with schools at that area. I only know Tadika Diyana in TTDI is really good.