Feb 08 2007
Hits for this post:9264
Too stingy to invest in a proper spindle box, that's why I made my own. The spindle box won't be off long term use. It's only for introductory to number zero and the reinforcement of number 0 – 9 with its quantity which JS has already mastered and once WH master this , I won't need this aid anymore hence really no point of investing in one.
I have got the idea to make my own spindle box while reading the book "Teaching Montessori In The Home – The pre-school years" – Elizabeth G. Hainstock. There's one chapter in the book on "Making Your Home Montessori Equipment"
Written in the book
What you will need :

45 spindles (dowels, popsicle sticks, plastic spoon , etc)
A box large enough to be divided into ten compartments into which your chosen spindles can be fitted

Divide your box into ten equal compartment
Number th compartments 0 – 9
place the correct number of spindles in each compartment
What I used is a mooncake box that I have save earlier and I use straws as the spindle. It's not really a perfect size as the depth is a little too deep and the width a little narrow for my hands , but for my kids still quite alright.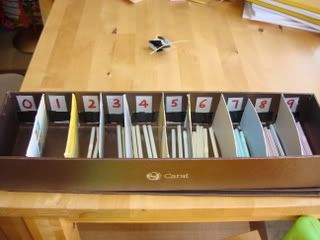 This is a draft version. I haven't found a way to beautify my spindle box and secure the partition which were cut out from recycle cardboard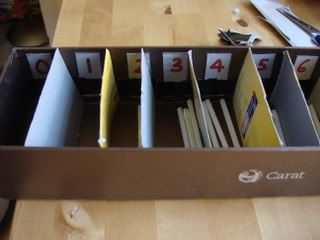 a closer look of my ugly spindle box.
The spindle box activity
This activity is suitable for kids 3 1/2 years onwards and have known the numeral signs and can relate the quantity to numeral symbols. Usually in a montessori classroom this activity comes after the number rods and sandpaper numerals
Presentation
Show the kids number Zero on the spindle box and explain the concept to the child that zero means nothing
Directress point to number 1 on the spindle box and asks the child to read it
Ask the child to bring the right quantity of spindles and put it in his non dominant hand and then into the compartment
Directress points to number 2, the child names it and she counts 2 spindles into her non-dominant hand and places in the box
Repeat the same with the next number
Child carries works all the way up to number 9
Direct aims
The first introduction to 0
The child gains a muscular impression of each of the quantities
Making association between fix written symbol with the loose quantities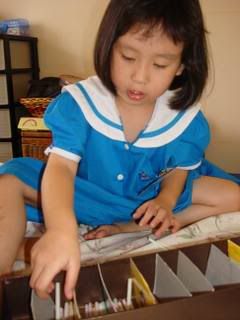 An alternative from box will be to use a muffin tin, with each cup numbered and use buttons or beads for counters (source from Teaching Montessori In The Home)

Blogsphere: TechnoratiFeedsterBloglines
Bookmark: Del.icio.usSpurlFurlSimpyBlinkDigg
RSS feed for comments on this post
4 Responses to "Homemade Spindle Box"
I like this spindle box idea! will try this when got time.:-)

#

Yenny

on 08 Feb 2007 at 5:29 pm

Wow,u really good ah!Me too want to follow. I got a pack of straw at home but need to look for a rectangle box first.

This is more for introductory. I guess Geraldine by this time already mastered number 0 – 9 , so it's not really a necessary activity for her age. But can be quite fun to her , coz something different.

You are very creative!
I use the larger popcicle sticks as "spindles". I routinely change to tea spoons, disposible chopsticks and marbles. I got all from the RM2 shop.

Havent seen those "bak ku li" (marbles) for a long time, don't know where to buy. I'm not creative la, idea all from the book , just have to look around what's available at home.

#

momofsix

on 18 Mar 2009 at 9:41 pm

Its a good idea…..although I dont have the time or patience to make my own…I think I will try using some of those plastic silverware inserts(for drawers) as my box and regular size straws…..you can duct tape a few of them together to get the number you want. They are cheap at dollar stores

Thanks for the idea