Mar 28 2012
Hits for this post:2179
Few weekends ago, this was the movie we watched. I am not sure if it has ever been shown in the local cinemas though. The movie plot is about two bird enthusiasts try to defeat the cocky, cutthroat world record holder in a year-long bird-spotting competition.
From this movie , the kids were exposed to bird watching. Suddenly they became interested, especially JS. Right there and then after watching the movie, JS can't wait to google more information on birds. For days, she did that. However, the informations on the net are pretty scattered and she was still so hot on the topic that she asked me to buy a book about birds for her.
Off we went to the bookshop and we bought this book.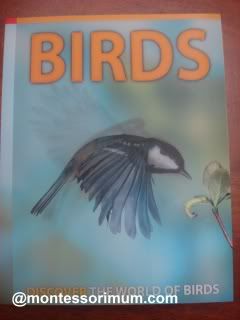 Coincidentally, not long after this, a friend posted an event organized by Malaysian Nature Society Bird Conservation Council about bird watch on her wall. It came really timely and the kids were so excited about it, though the event actually take place in June. But they can't wait and started their own bird watch.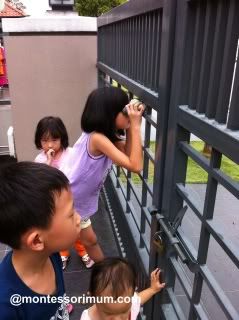 If you are keen , you can check out Garden Birds Survey
Mark your calender for the bird watch to take part in the survey. You can download the count sheet online and there's also a downloadable pocket size bird guide. I like the online bird guide as it comes with all the chirping of each birds. Now we can identify which chirp belongs to what birds. The kids become more aware and observant about the surrounding too. They started looking out for birds more.. "mi..look that yellow bird is to pretty.. I have not seen it before" or "  I know that sound is from an Asian Koel" etc..
And we have downloaded our bird guide and count sheet.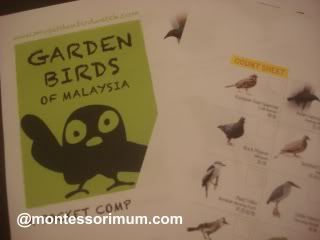 Blogsphere: TechnoratiFeedsterBloglines
Bookmark: Del.icio.usSpurlFurlSimpyBlinkDigg
RSS feed for comments on this post
Comments Off