Mar 28 2012
Hits for this post:3338
Daddy is the one that expose the kids to all the latest hits. My mind seems to have shut down for all these. I will listen to the songs together with them, but I cannot remember nor identify the singers and the song titles. I have no idea what are the latest hits. I do not voluntarily switch on the radio. I am very very left out from all these be in the Chinese Hits or the English.  Since Daddy is "banana" , obviously the kids are only expose to English Hits, which daddy listens and gets to know from the radio, frequently download these songs from the net and store it in our pendrive (one for his car, one for mine and one to be plugged into the TV). I leave it as the bonding moment for father and kids..
With the exposure to all these hits, JS had wanted to play so many songs on the piano too. Her confidence level was lifted after a few self taught pieces and my job is to search for the song sheets for her. ( She will be the one who gives me the name of the artist and title of the song… I am blur though I can hum along to the tunes and melodies)
Here are some of the sheets that I have recently downloaded. She is self learning Adele's Someone Like You, Birdy's – Skinny Love and Grayson Chance's Waiting Outside the Line ..all at the same time…I find her too ambitious.
Here's her playing Skinny Love…still in learning progress …this is 3 days after I've downloaded the sheet.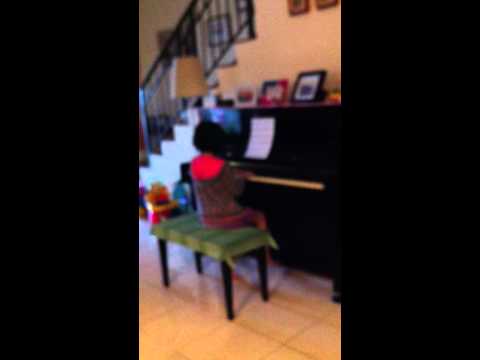 This should be the way.. the joy of playing an instrument, instead of repeatedly drilling and practicing scales and classical pieces (talking from own experience, going under the stress of practical and theory exams every year to get the certs – ABRSM Grade 7 that is which have no use for me now). JS only sat for exam once..which was Yamaha Grade 9 early last year..she won't be sitting for anymore exam probably until year 2013 and she enjoys playing.
She had also composed a simple melody which she likes it so much , since she is not train very much in the theory part, she asked me to write the melody down for her just in case she forgets… she was playing very fast and I had quite a challenging time just to write it down.
And it turns out like that
Without proper timing… as long as I get the melody down.. I suppose she knows the beats to it..it is her song afterall..

Blogsphere: TechnoratiFeedsterBloglines
Bookmark: Del.icio.usSpurlFurlSimpyBlinkDigg
RSS feed for comments on this post
One Response to "Hits Music & Piano"
There is no use to through all those exams, except if one wants to venture in the musical field. Over here, piano exam is practically unheard of. Our girl will not sit for the piano exam. She can decide for herself next time. Exam kills all the interest!

Indeed, exam kills interest