May 15 2012
Hits for this post:2741
I have actually no intention to write anything about Mother's Day, though I have seen many friends sharing their Mother's Gifts (which is actually done in school with the guidance of teachers) and celebration in their FB and blog. I just feel that it has been overly commercialized.
I had an early dinner celebration with my parents last weekend (the first Sunday of May). It was a mistake actually. I've called my brother on Saturday telling him that the next day is Mother's Day and we shall go for dinner together (even told hub about it and my in laws that I want to reserve the Sunday for my parents)…but only to realize on Sunday itself that Mother's Day actually falls on the 2nd Sunday not the first. Nevertheless we just carry on with our plan. Thinking that it does not matter if we celebrate on the day itself or not and that we can avoid crowds, overpriced and quality compromised food on a busy day (the actual day)
I did not expect anything from my children. JL did bring back an art work from school on Thursday, which did not make me go OOh and AAhh and all excited about it. Nothing to get excited because the initiative and preparation is from the school. Not her own will. (too young for her to know)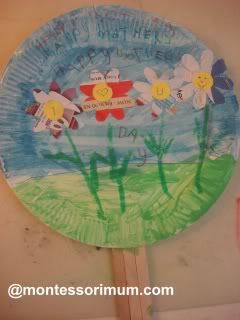 On Friday, when I pick JS up from school, I saw her carrying a gift wrapper.  The moment she stepped in the car, she told me she bought it from the book shop in school and it is for a surprise gift, but she has not think of what gift to make yet.  All I could think off the surprise gift was something done from scrap, which she is very good at, or probably a card, which do not need a brand new gift wrapper. I didn't give much thought to it after that.
Comes Saturday, she told me "Mummy, I think I don't have time to do anything for you this Mother's Day"
I said "Ok. I don't want anything at all. As long as you all don't fight and help me with housework, I am happy"
Sunday was a usual day for me. Busy as usual.  Woke up early to prepare the kids for basketball lesson in school. Woke them up, prepare simple breakfast for them and hubs sent them off to school. And my man left the pick up job for me. As he has a filial son's role to play. His dad has been expressing his wish to go down to Malacca for weeks, hence this filial son finally decided to drive his parents down to Malacca for a day trip that very Sunday, else he won't have time until we come back from vacation in June. He left the house early  with 4 kids for me to handle on Mother's Day!!
Went to pick the kids up after their lesson. JS said she wanted breakfast… omelet and sausages! We did not have any more sausages at home and she seems to be craving strongly for it. We were already on the way home, but detoured to the pork shop to get some sausages. Back home while they shower, I was busy in the kitchen preparing their second round of breakfast of omelet, sausages and fried mushrooms.  Ooh…by the way, before they were back from school and before the two younger ones woke up , I had bring in the laundry, fold them, ironed tonnes of clothes and hand wash and machine wash another load of laundry and hang them out.
After breakfast, kids were chilling out at the living area playing toys. I was a little mad at them as someone left the dish on the table after finishing their meals and didn't bring it to the kitchen and the floor and table were a mess of food crumbs. I was mad that no one offers to help and I still work like a bull on Mother's Day.  I grumbled a little as I don't even see JS, she had escaped upstairs doing her own thing right after breakfast.
She came downstairs much later while I was getting ready to bake a cake as the bananas were getting overripe on the table. She offered to take over. I let her.
While waiting for the cake to bake, they were playing with some tessellation tiles and JS called out to me "Mummy, come and see this"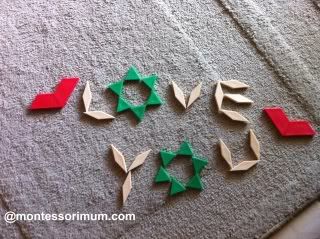 She said " I love you mum!!"
Arghh…at least cooled down my fire a little
After I had done with all the housework and got them lunch, I decided to drop over at my parents place. Told them to get ready and that's the time I went upstairs again after I have woke up since the morning
I saw this on my work table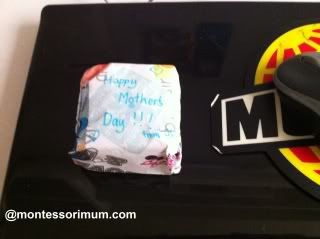 It did bring a smile to my face for an instant. But I did not open it. Knowing very well that the box was from their aunt, my SIL the night before. It was a door gift from a wedding dinner with two candies inside.
On the way to my parent's place, we stopped over at the bakery to get mum a cake. In the car, JS asked "Did you see it? Have you opened it?"
Me "aiya… I know what it is already. I didn't open. You are not sincere, you used the gift Ku Ma gave to you and use it as a gift for me"
She didn't say anything further and so did I . We chatted on something else
We spent a couple of hours at my parents place and left at 5pm as hub was already home.
All of us napped and woke up about 7 pm. Went to  Pizza Hut for dinner, a place that we thought would be less crowded compared to Western cuisine/chinese restaurant or any other fancy restaurant.  Still it was pretty busy at the restaurant, but we didn't have to wait for too long.
The gift was left unopened on my laptop still.
The reason why I wrote this down was because on Monday (yesterday), while clearing the table, just so happen, I unwrapped the gift. It really did surprise me.
No, she didn't give me the two candies from the wedding. She didn't just wrapped the box from her aunt and pass it as a gift to me.She had something else for me in the box. Guilty at charge!!! Guilty for not showing appreciation, guilty of not trusting her!
My daughter had actually stitched a heart made of felt for me. Very neatly done up too. I didn't know when she did it, must be when I was busying downstairs on thatSunday morning.  I felt that I have owe her a gratitude on her loving gesture for me.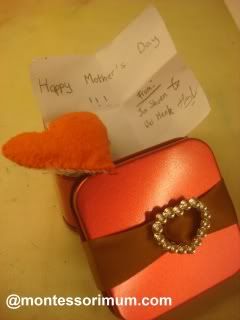 Blogsphere: TechnoratiFeedsterBloglines
Bookmark: Del.icio.usSpurlFurlSimpyBlinkDigg
RSS feed for comments on this post
2 Responses to "Mother's Day 2012"
Jumping too early…I guess you need to reaffrim your trust to her and never underestimate her.

yea..feel so guilty

mummy, u own JS an apologize and a big hug!

me too, always do the same thing to my elder. Both of us has too very high expectation from them. Not fair ho… still learning how to be fair to her.

lesson learned…listen before jump into conclusion