Jul 19 2012
Hits for this post:3607
Many Malaysian household heavily rely on the help of  live in domestic helpers. We often wonder, how can we cope with house chores, child minding and cooking? Especially the cooking part. It seems to be tedious job with food preparation as well as the cleaning up (actual cooking actually needs minimal time)
We have been maidless for over a year now. But never have I thought of catering food. Most days (weekdays) I cook for my children. Kitchen closed during weekends! I know my kids too well. When comes to food, each of them have specific likings. If we caters food, we will be stuck with Chinese cuisine 5 days a week. It it not that flexi. I prefer or rather kids prefer western/japanese to rotate between typical 3 dishes 1 soup chinese meal. I know every well that if I caters food, most of the food will end up in the bin. ( most food are cooked in thick black sauce, heavily seasoned etc)
Usually I start my food preparation at 4.30 pm , and I get everything done by 6.30. I cook extra for next day lunch for. (Very rare I cook lunch as my morning is really short. Lunch at home is often for WH. The girls and me will go for food hunt after school). On lazy day, I cooked ala -carte or one pot dish. It can be as simple as a donburi. On even lazier day, we call for pizza delivery or tar pau.I boil soup in the slower cooker at noon, so that we can have soup for dinner. (Don't have thermal pot … still considering if shall invest in one)
Initially I even wanted to buy Thermomix. (and almost got one too) but later I realize I still able to cook with ease and the kids really love the process of food preparation, I gave up the thought of getting one. Don't have happycall pan either..just make use with whatever there is at home and still manage well.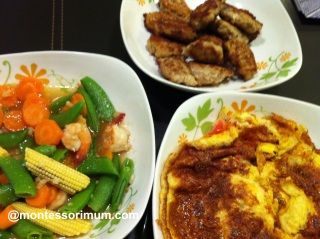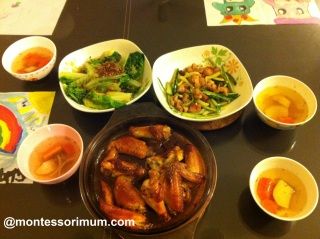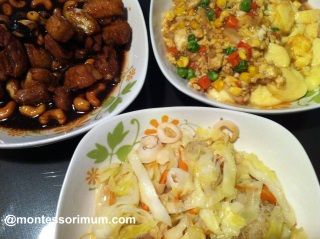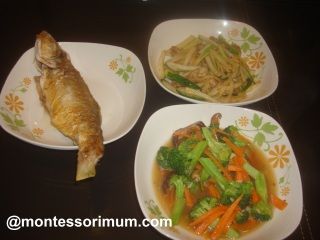 Lazy day meal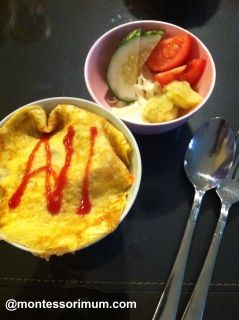 Egg and chicken donburi with salad
baked stuffs
Shall I still be able to come out with homecooked food if I am WAHM or FTWM? I am not sure… I tell you if I got the chance to be WAHM/FTWM and without maid!

Blogsphere: TechnoratiFeedsterBloglines
Bookmark: Del.icio.usSpurlFurlSimpyBlinkDigg
RSS feed for comments on this post
2 Responses to "No Maid, Can Cook"
despite all the hassle of preparing, i still love cooking the traditional way. didn't end up with the happy call pan too, as i do not want too many pans, too difficult to manage or taking up space in the kitchen.

for soup, i still boil on stove for about 30mins, then put into therma pot (Magic cooker from cosway. Cheap and easy to manage, Rm199, pic at http://www.demoments.net/blog/2011/07/i-had-the-best-birthday-weekend/).

Can do soup, stewing and keep everything hot for dinner. Lazy to use slow cooker, too heavy and hard to wash la.

my slow cooker is the smallest size ..so it's not that heavy

#

sasha

on 19 Jul 2012 at 4:15 pm

can lah!