Sep 13 2012
Hits for this post:6077
Hello to all my blog readers, this is my very first blog giveaway ever since I started blogging in year 2006.
I will be giving away a set of Wikki Stix Numbers and Counting Set
What is Wikki Stix
Wikki Stix are made of hand-knitting yarn enhanced with a microcrystalline food-grade, non-toxic wax, the kind used in bubble gum and lipstick. They do not contain latex, gluten, nor peanut or other nut oils or byproducts which makes them an ideal creative activity toy for children with allergies.
Wikki Stix do not break or tear apart, but cut easily with scissors. Wikki Stix conform to all U.S. Consumer Safety Standards including ASTM D-4236 and F-963, as well as the European Standard BS5665/EN71.
Wikki Stix appeal equally to boys and girls, and span a wide range of ages, from 3 to 103! They are perfect for quiet, independent play, or interaction with others. They help enhance learning through hands-on kinesthetic involvement. They stimulate the imagination and creativity in everyone! And.. there is no right or wrong way to play!
Wikki Stix is MADE IN USA
This set contains 36 wikki stix, five worksheets with two numbers on each, plus free play area. sixth worksheet emphasizes counting.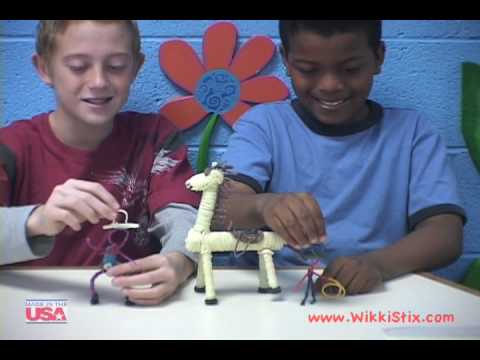 How to enter the giveaway
Blog:
1) Blog about Wikki Stix MY with the keyword Wikki Stix Malaysia or Wikki Stix In Malaysia and link it back to http://wikkistixmy.com . At the same time mention our Facebook Fan Page Wikki Stix MY and link to http://www.facebook.com/wikkistixmalaysia
2) Minimum word counts for your blog post is 100 words
3) Your post can be written  in Chinese, BM or English
4) After you have done so. Post your blog post link in this comment.  This will entitled you to one vote. If you have more than one blog, you can submit more than one entry
5) The post you have written for this giveaway shall remain permanent as long as your blog is active.
Facebook
1) "Like" our facebook fan page http://www.facebook.com/wikkistixmalaysia
2) Share out Wikki Stix MY facebook fanpage  in your own wall/timeline , group and page
3) Leave your facebook ID in this comment
4) Each like and share entitled you to one vote
Terms and Conditions
(Without fulfilling this, any participants will automatically disqualified 
and no prior notice will be given)
1) This giveaway is opened to bloggers and facebookers residing in Malaysia only
2) You can participate in both blog and facebook campaign, that will give you a higher chance to win. Remember to follow the instruction carefully and leave a comment with your blog url and/or FB name after you have done.
3) One winner will receive 1 set of Wikki Stix Numbers and Counting Set.
4) Winner will be chosen at random via random.org
5)Please provide a valid email address so you can be contacted if you win
6)You will need to reply to the winning email within 48 hours or another winner will be selected
7) This giveaway ends on Sunday , 30th September 2012

Blogsphere: TechnoratiFeedsterBloglines
Bookmark: Del.icio.usSpurlFurlSimpyBlinkDigg
RSS feed for comments on this post
6 Responses to "Blog Giveaway: Wikki Stix Numbers and Counting Set"
#

CK

on 14 Sep 2012 at 12:27 am

My blog entry : http://wongyingkiet.blogspot.com/2012/09/giveaway-wikki-stix-numbers-and.html

email : shia88@hotmail.com

Fb id : shia88 (has liked and shared in my Fb timeline)

#

Chuah Bee Hooi

on 14 Sep 2012 at 8:11 pm

Hey Elaine, not entering the contest but just include my link here for your easy reference. http://mumsgather.blogspot.com/2012/09/encouraging-creativity-through-play.html

Thanks MG!

Hi Elaine,

I am a 'small-time" mommy blogger and recently, I was approached by a representative of Wikkistix to do a review. I am still awaiting the package but I am sure as you mentioned, it is a great product. I would like to win this but in life, one cannot be tooooo kiasu, right? @.@

I tried searching for your email add so that I can discuss some other business matter with you. (Not regarding Wikkistix). Do you mind leaving it in this comment form or simply email me in return? Thanks.