May 04 2013
Hits for this post:2620
I can't remember what I did to help JS to be an independent craft maker. She is taking orders and selling her crafts, from handmade rubber stamps to quilling craft, to felt craft and zakka and ribbon crafts. All I need to do now is help her to get supply for raw materials. I don't even have to help her look for patterns or guide her what to do.
I am feeling a little guilty that I haven't spent as much time and effort with JL for her to be a skill craft maker like her sister. She envies her sister a lot, especially when JS manage to sell her crafts and earn some extra pocket money.
JL has wanted very much to learn, but i guess due to time constraint, I haven't have much time and patient for her. Seems like I am always giving her empty promises and I feel extremely guilty on breaking promises. I really can't help it because I really can't slot in the time, there's always something more important and urging popping up when I plan to teach her.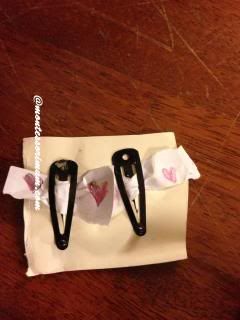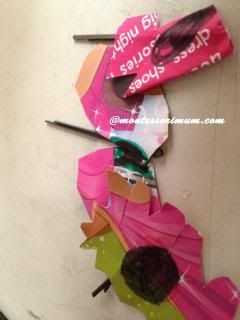 Recently JL made these "paper" hair clips and wanted to sell it.
She is so proud of her creation that she wore it to school and didn't take it down for the whole day.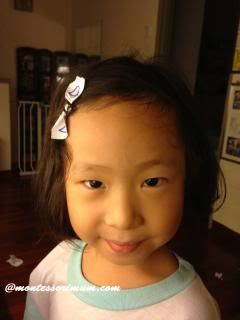 It makes me so guilty that I should really make an effort , spend time with her and teach her how to make proper craft with real craft materials.

Blogsphere: TechnoratiFeedsterBloglines
Bookmark: Del.icio.usSpurlFurlSimpyBlinkDigg
RSS feed for comments on this post
One Response to "Craft Maker"
There's a convention coming up on 6 – 7 July? I hope you can promote it here and even attend yourself. Cheers.