Jun 07 2013
Hits for this post:3268
This is such an outdated post. I had it in the draft, half completed and totally forgotten about it until I was reminded to post about it by *ahem* the organizer.
I have a princess wannabe at home. When we received the invitation to a movie premiere on Disney's first little girl princess, I could hardly resist the invitation.
I have submitted all four kids information for the invitation confirmation, though I only have two little girls that are still into Disney's girly, princessy cartoons.  JS being a tween is no longer interested in princessy cartoon and WH being a boy couldn't even care less. But since there won't be anyone home look after them, I have to bring them along.
The movie premiere screening was held at GSC Signature @ The Gardens on 11/5/2013.
This is my very first time going to the signature cinema. The ambiance is so different from the normal cinema. More classy and comfortable.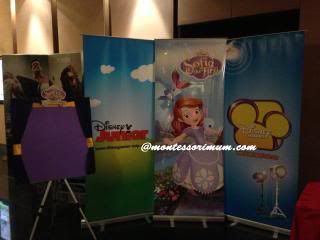 JS's autograph on the guest board
Waiting for show to start
The event organizer was so thoughtful to set up this little stage for all princesses and princes to take photos with princess prop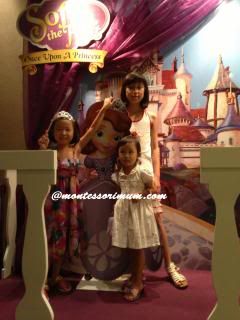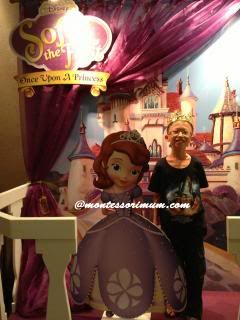 Should I know they provided pop corns, mineral waters and Coke, I wouldn't have bought a set myself.
Free seating on such comfy and wide seats
Now, did the two older kids find the Princess Cartoon Movie to be too childish and boring?
Heck no. They love it and enjoy it so much.  The music filled animated television movie storyline had manage to captivate the interest of an 11 years old tween and 9 years old boy.  JS was saying she finds the movie meaningful what what the values the movie is trying to convey.  The only little bumper was that the two older kids were a tad disappointed as they have expected it to be a 2 hours movie, but it only lasted 45 minutes.
The whole lot of goodies we brought home. Thank you so much to the event organizer  Indeedcommunications.
If you are subscribed to Astro, tune in to Disney Junior (613) or Disney Channel (615) to catch this movie. The premiere for the moved on 613 was on 19 May , 2013 11a.m and 27 May 2013 @1 pm @ Channel 615.
All my three girls watched this movie during premiere screening on Astro again.
This is certainly one movie you can watch over and over again without feeling bored.
Disney Junior will launch "Sofia the First" television series too.  I am sure my princess wannabe will ask for it. Even up till today, JL is still mentioning on how a princess should waves her hands.
Synopsis of the movie:
The movie is set in the storybook world of Enchancia, introducing Sofia – an average girl whose life suddenly transforms when her mother marries the king and she becomes a princess, Sofia the First. Sofia must learn to navigate the extraordinary life of royalty while holding on to her own hopes and dreamHers and her journey to being the best she can be also paves the way for those around her to realize how special they each are.
Her royal adventure begins as she prepares to move into the castle with her mom, starting a new family with her step-father, King Roland II, and step-siblings, Amber and James.
Getting help from another Disney classic in her journey are the three headmistresses of Royal Prep Academy – Fauna, Flora and Merryweather (the beloved fairies seen in Disney's classic "Sleeping Beauty") and royal steward, Baileywick, as well as a group of cute woodland creatures led by a wise-talking rabbit, Clover.
Sofia soon discovers that looking like a princess isn't all that difficult, but displaying honesty, loyalty, courage, independence, compassion and grace is what makes one truly royal!
Using positive messages and life lessons, the stories from "Sofia the First" are created for families and applicable to young children. While she lives in a captivating world of castles, wizards and flying horses, Sofia remains a relatable peer-to-peer princess who is experiencing many of the same social situations as young viewers at home including learning how to fit in, making new friends and mastering new skills.

Blogsphere: TechnoratiFeedsterBloglines
Bookmark: Del.icio.usSpurlFurlSimpyBlinkDigg
RSS feed for comments on this post
Comments Off