Nov 11 2013
Hits for this post:1998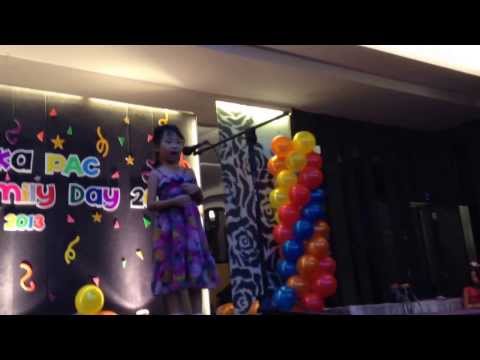 *video a little shaky, recorded by her sister while I was busy snapping photos
This is our JL during her graduation concert. She was one of the 6 participants for this talent show. It's non compulsory and on voluntarily basis. I didn't think of letting her sign up as I know she used to be quite timid and would change her mind last minute. I don't want to put her through the stress whereby I need to coax her, sweet talk her to go on stage shall she chicken out last minute. Anyway, she was adamant and wanted to participate. I submitted the form very near to the closing date without a song title. She couldn't make up her mind then. From wanting to sing  Karmin's Acapella to later deciding on Katy Perry's Roar. (Haiz…6 years old picking up these sort of songs instead of songs more age appropriate!!)
From what I see from the other children's performance, I must say my little JL is the only one that has the least preparation at home prior to the actual performance. I didn't coach and help her at all. I seriously do not know what to expect from this sort of talent show performance. It's not entirely a competition where she is out there to win something or proof herself. I thought it would be good enough just encourage her to go up the stage, sing the whole song without stage fright, present her most truthful and natural self, have fun and some exposure to sing in public. I knew of parents who goes to the extend to get vocal coach, to choreograph the whole song and dance and we have none.
As I was watching from the audience seat, I did have this worry flashing through my mind. Would she compare herself with her friends and feel less superior. Would she be demotivated? Would this kill her esteem? But later I found out my worries were unnecessary. Kids are really very straight forward and non judgmental. It's from the adults they learn to criticized and look down on others.  I am also grateful to her teacher that had thought the whole class to be supportive to their peers and not poke fun on their song choice and their performance.
I am proud of my girl for her braveness to perform in front of a crowd.

Blogsphere: TechnoratiFeedsterBloglines
Bookmark: Del.icio.usSpurlFurlSimpyBlinkDigg
RSS feed for comments on this post
Comments Off