Dec 18 2013
Hits for this post:2747
This is a outdated post again. I am always slow in blogging these days.
Sometime before the school holiday started, I received an invitation for a up close and personal session with Hi5.  Since my kids used to (the older ones) watch Hi5 and the little one also started enjoying it, I wouldn't want to miss it.
15/11/2013, last day of school, I brought JL to the Hi-5 teams up with Dumex Mamil All 'n One event. I wish I could bring all kids, or at least two younger ones, but I was only allowed to bring one child. Nevertheless it was really a fun session.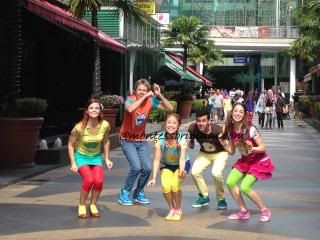 Hi-5, the award-winning Australian children's musical group, consists of 5 dynamic performers namely Stevie Nicholson (aka "Stavros"), Lauren Brant (aka "Lolly"), Dayen Zheng, Ainsley Melham (aka "Ains"), and Mary Lascaris (aka "Mare-bear"). This energetic group presents the contemporary 'pop' style of music and a fun, colourful, exciting world of imagination that children 2-8 years are invited into wholeheartedly.
They star in a popular TV series, Hi-5, which is a vibrant mix of stories, investigation, imagination and adventure and encourages children to explore the world through movement, laughter and lots of catchy music. With Hi-5, learning is playful, fun and inclusive. Most importantly, Hi-5 seeks to support the young child's growth in all areas – cognitive, social, emotional, creative and physical – while encouraging children to develop their own potential.
Actually we missed and prefer the original Hi 5 crews. My kids are still watching the very old vcd of the original Hi 5.
Hi5 is working hand in hand with Dumex in educating children about balance and nutritional diet. The collaboration sees to Hi5 working on an educational video made exclusively to convey important messages about the five food groups, as well as a special song titled '5 Food Groups'. This will be performed during the upcoming concert in December at KLPAC. You can get your tickets from
Ticketpro
Find out more about the Dumex Mamil All 'n One Hi-5 contest at the Dumex Mamil Facebook page at www.facebook.com/DumexMamil or call Danone Dumex Careline at 1800 38 1038.

Blogsphere: TechnoratiFeedsterBloglines
Bookmark: Del.icio.usSpurlFurlSimpyBlinkDigg
RSS feed for comments on this post
Comments Off