Feb 26 2014
Hits for this post:2387
The piano at home can go untouched for weeks and even months. (JL's practise doesn't count as she has not started playing a complete song or rhythm yet) I can't remember when was the last time JS plays the piano. I can only find a video recorded about 4 months ago. She told me the last song she played was Royals. It's a waste that she is not practicing daily after years of lessons? It's a waste that she did not continue the lessons? It's a waste that she didn't even sat for any formal music exam and have a cert (well, it may be helpful to have the credit for future uni application, but I have not used mine when I applied for uni). I personally don't think it's a waste.
This week she started playing again. Because a song caught her interest. She wanted to learn to play the cover from "Frozen". This time round she no longer asked me to download the sheet.
Here she is trying to learn to play "Let it go" from youtube. She has to start, stop, play and repeat over and over again and surprisingly she already got two verse by heart the next day. The mother here just managed to search for a score and have to read the notes one by one to play and cant even remember a bar by heart after that.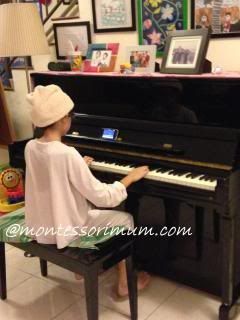 Blogsphere: TechnoratiFeedsterBloglines
Bookmark: Del.icio.usSpurlFurlSimpyBlinkDigg
RSS feed for comments on this post
Comments Off