Apr 18 2014
Hits for this post:3377
Ever since I attended the cooking demo by F&N Seasons Nutrisoy, I am so inspired to cook and bake more despite the water rationing.  The tips I've learned is cooking can be simple and not a hassle, even with no water supply, I can still use minimum utensils to come out with healthy home cooked food for my loves one.
For a healthy eating and living, I do a lot of juicing. Usually I keep the fruit pulps. Those can be added to the cake batter for bread and muffins. It can also be added into your stock base.
JS was mentioning to me that she misses the fruit pulp bread and asked me to bake again and since I have some F&N Seasons Nutrisoy in the fridge, I decided to give the recipe a little tweak. Instead of using normal milk, I added in F&N Seasons Nutrisoy.
Here's the recipe
- 3 cups white-whole wheat flour
- 1/4 cup flax meal
- 1/2 teaspoon salt
- 1 tablespoon baking powder
- Heaping teaspoon ground cinnamon
- 2 cups (fluffed, not packed) fruit/veggie pulp
- 1/2 cup olive or canola oil
- 1/2 to 3/4 cup of F&N Seasons Nutrisoy
- 1/2 to 3/4 cup maple syrup (depending on sweetness desired)
- 1 teaspoon vanilla extract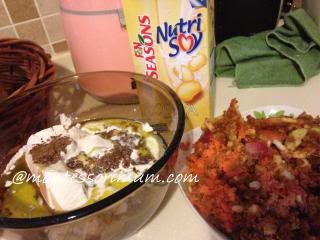 The method is very simple. All you need to do is to mix all ingredients together. Even a 4 years old can do it.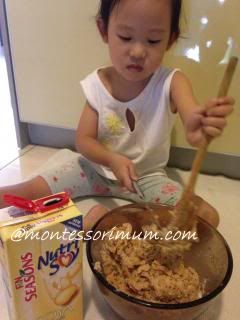 Bake the batter in oven heat 170C for about 45 minutes, bread is done when set in middle and lightly golden brown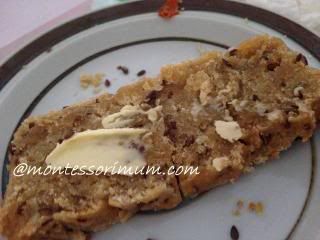 Fruit Pulp Bread that my children love
It's also easier to pair F&N Seasons Nutrisoy with other breakfast instead of using it as a cooking ingredient to make the meal wholesome and nutritious.
  French Toast with fruits and F&N Seasons Nutrisoy for the girl to pack to school. She is not a morning person and eats very little before going to school at 6.15am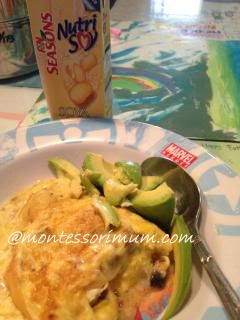 Omelette with Avocado paired with F&N Seasons Nutrisoy Soy Milk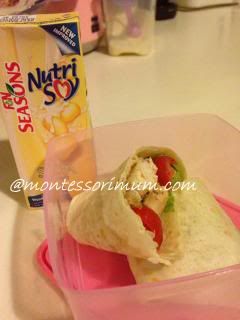 Wholemeal Breakfast Wrap. This is one of the kids favourite too. I have prepared this before but not as tasty and nice until I got a few tips during the cooking demo.  This is very simple to make. All you need to do is to marinate the chicken overnight and cook it in the morning. It can be done in less than 15 minutes.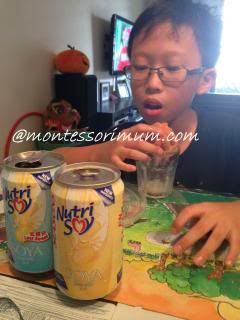 It may just be some simple kuih baulu for breakfast, but pairing it with F&N Seasons Nutrisoy soy milk, it then becomes a complete meal.
Avocado Ham sandwich pairing with F&N Seasons NutriSoy Soy Milk. You can see how he enjoys his "breakfast love".
It's just so simple to pair F&N Seasons NutriSoy with so many other healthy food.It keeps the little tummy full longer and they don't get hunger pangs before lunch. The protein is good in helping them to build new tissues, and we know protein is important for their growth.F&N Seasons NutriSoy soy milk has no cholesterol , low in fat and it has no added
preservatives, flavouring and colouring.
For more details of F&N Seasons NutriSoy Breakfast Love campaign and more breakfast recipes with F&N Seasons NutriSoy, check out and LIKE F&N NutriSoy
Facebook page at http://www.facebook.com/NutriSoy.My!
All because of #NutriSoyMY #Breakfastlove , my kids are happy that I am back into kitchen action to prepare more meals with loves for them.

Blogsphere: TechnoratiFeedsterBloglines
Bookmark: Del.icio.usSpurlFurlSimpyBlinkDigg
RSS feed for comments on this post
Comments Off