Aug 14 2014
Hits for this post:7147
This is such a long overdue review that i am suppose to do after receiving the product, however due to some unforeseen circumstances, it was delayed till now . I feel really bad for not getting the review up soonest and would sincerely like to apologize to the sponsor (BrandThink Malaysia)

When I got to know that BrandThink Malaysia on behalf of Mattel  offering to send bloggers the latest installment of the Monster High doll – Frights, Camera ,  Action! along with the DVD in exchange for an honest review, I was very excited to take up the offer.
I have heard my girls mentioned about it before and am sure that they would love to have me do the review. Even though I have heard of Monster High, i don't have the faintest idea what it is actually about. I assumed it is a character in one of the TV cartoons. My kids have limited PC and TV time and yet they are quite up to date on the latest happening. It's very obvious that I am still in the Barbie's era , though that know there's Winx, Bratz and now Monster high. JS told me it's a web series and not shown on TV and that she watches it on youtube.  *oh ok.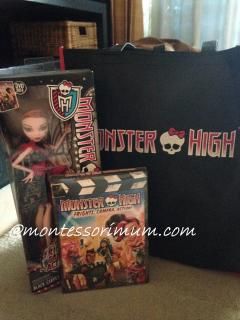 This is what we received. A DVD and Monster High doll to our toy collection. This is the girls first Monster High doll – Frankie Stein.  JL and JE were thrilled to have a new doll to play with.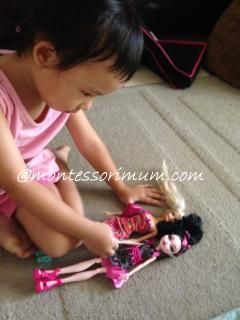 I let the two young ones watch the DVD first. When I first watch it, I don't quite like it. I find the character to be too gothic. I don't like the fangs on Frankie Stein. But after sitting through the movie,  I find the storyline quite ok. I also found that it is very creative to have the characters depicted as being either related to or as offspring of famous monsters such as Dracula, Frankenstein's Monster, the Mummy, Medusa,Phantom of the Opera, Zombies and more. What caught my attention was the extensive use of humorous horror puns throughout the movie. Like calling all the female characters as Ghouls rather than girl. London as  Londoom, Hollywood  as Hauntlywood. Of course the two younger kids won't catch these puns, but when I re-watch it the second and third time with the two older kids, it strike a chord with them and can't help to find how creative the author is.  They can even recognize TCL chinese theater in the movie.
I personally find that the Monster High series should be watched with parental guidance for younger kids. As the whole storyline is evolving around high school life and high school girls where they are into fashions, girls/boys relation, celebrity crush and even calling names and making nasty remarks.

Blogsphere: TechnoratiFeedsterBloglines
Bookmark: Del.icio.usSpurlFurlSimpyBlinkDigg
RSS feed for comments on this post
One Response to "Monster High: Frights, Camera, Action! (Movie Review & Doll Review)"
Hi,

I hope this email finds you well.

Do allow me to first introduce my organization – NoQ Store is the e-commerce arm of Times Publishing, one of the most reputable names in printing, publishing, distribution and retail in the Asia Pacific.

We would like to sponsor you with a S$30 (approximately RM 75) book voucher for you to redeem books for a short review on your blog​. The review can take the form of a quick, simple mention, the content of which is completely up to you! In addition, we would also like to extend a 15% discount privilege to all your readers.

With a database of more than 14 million titles, spanning across genres like Children's, Educational, Parenting, Fiction, Cookbooks and many, many more, you will sure be able to find some fantastic reads for your little ones!

Thank you and we hope to hear from you soon!​​

Regards,

Beatrice Ong
Marketing Executive – NoQ Store
6213 9208 (DID)
http://www.noqstore.asia