Aug 27 2014
Hits for this post:7250
I have not really given it a thorough thought until after the first quarter of this year. All the while I was thinking, no matter where she continues her studies, the most important aspect to thrive and be successful does not solely depend on school and teachers. As someone that believes in homeschooling, I feel that the family and I also have a part to play to help her to be successful. We can always supplement her learning with whatever flaws and shortcoming in our current education system. I wish to remain positive that no matter what system we are thrown in, we just move along with the flow and work out the best of it.
As much as I wish to remain positive, but I can't help to feel a little unsettled each time this subject is discussed among friends. Can't help not to be worried by their feedback. There are also articles on media stating the drastic deterioration of the standard of our education system. Generally, the people who are a little more informed and educated are feeling very disturbed with this news.  I see so many friends and people around me opted for alternative education. Then I started thinking, if I have the power to choose, would I just do nothing and just go with the flows.  Of course there will always be pros and cons on whatever system I chose for JS. There will never be a perfect system. Now, it's a matter of weighing out which is the better option.
Homeschooling is out of option as I know I wont get support from family members and without that I wont have confident to do it. Moreover, I still long for my own time to do something I am passion for and not stuck at home homeschooling my kids.
Private/International schools fees are out of our capabilities
Homeschool/Learning centres – Too expensive. Moreover it's not even schools but classes are carried out in shoplots. There isn't much co-curriculum activities to participate in and need to fork out extra money to send JS for extra activities and skill classes.
Now the option I have left with is either Public School or Chinese Independent Schools
Option 1 – SMK in our neighbourhood. The only one in our community which is less than 5km radius from home.
It's not a bad school. In fact the school performed well academically last year for their SPM as one of the top school in the Klang district. The pro is , it is very near home. Only less than 10 minutes drive. I have overheard one parent from JS's school mentioning that she wont consider any other school than this school for her son, as it's the nearest. She can't imagine her son having to travel out of this township for the next five years daily to go school.
I have friends whose children are in the school. But 90% of them won't enroll their other children in the school. According to my friends that their children are studying there, they said that the first 5 classes of every form is good class with dedicated teachers. The last few classes are the left behind classes where teachers don't even enter classes.  Anyway, that's not the reason why they won't enroll their other kids in the school. It's all because the syllabus. Two years plus ago, the ministry of education started implement this new PBS system. It's a lousy planned system whereby teachers don't even know what is exactly going on. Teachers are spending way more time on paperwork than teaching. As it's a assessment based system , the students are given more works and all small assessment marks are accounted for. The students are at lost. They don't know what to expect out of the system. Everyday living in fear and stress. As they may be test in class every now and then without prior notice. And now at the very last minute, they are saying there is PTS to replaced PMR.
Hubs likes SMK. He said that we are Malaysian, staying in Malaysia and possibly the kids will work in Malaysia. Hence the kids need to be able to speak Malay and be able to blend in and interact with the other ethnic group.  ( I do agree with that as both of us were from SMK )
Option 2 – SMJK (you can read more about SMJK characteristics here http://www.mysinchew.com/node/93381)
We have one SMJK nearby which is about 16km away. It's the sister school of the primary school that JS's is attending. Which mean the schools are govern and manage by the same board of directors. Hubs and me had visited the school. Don't really like the location of the school and later I found out from a friend that saying the reputation and performance of this SMJK is not as good as the SMK in our neighbourhood. Which proof that SMJK may not be more superior and excellent than normal mainstream secondary school as many believe.
We do not have any ex missionary schools in our area. Hence that is out of my option.
Come to think of it, even if I have more SMJK or ex missionary schools to choose from, it really does not make much difference as what initially put me off from selecting public secondary school is the syllabus used. SMJK, ex missionary schools and SMK , all share the same syllabus.
Earlier this year, I have asked my aunt's and parent's opinion on this matter. I also spoke to a old classmate of mine who is currently a public secondary school teacher.
My dad is a little out of date. Since he left the public school 20 years ago, he hasn't been keeping up with what's the changes in the syllabus. I asked him about his current students in college which are from public schools. But I think the number is too insignificant to show the quality of our education system. Morever his students now were still using the old syllabus and most of them are there on scholarship.  They told me no harm letting JS try Chinese Independent School
As for my aunt's opinion. She didn't say much about the new PBS system. As she is still teaching the old syllabus. She said her two daughters were the product of public school system and did quite well now in college/tertiary education. I asked if she would let her son continue in public school, she told me that if no money there will not be any other choice. I am quite surprise. My aunt is not really that poor as both husband and wife are working. I think she probably want to save the money for tertiary education for her children. I am also very surprise she didn't mention about homeschooling whereby she is a very staunch christian. I have not spoken to her since my cousin started Form 1 early this year. I don't know if her view of public school system, especially the new PBS system has changed her view on our public school system. I don't know if she would let her other son goes to public school next year.
I asked my friend if she as a secondary school teacher, will she let her daughters go to public school. She said, if she is financially capable, she will enroll both her daughters into chinese independent schools.
These are just some collective opinions. Everyone making decision that suits their need the best. My choice will also be what suits the best of us in our situation.
Sometime earlier last month, the school gave out a form for us to fill on school selection. Usually there are three options to choose from. These three options are usually within the primary school feeder zone. They also had a talked for parents. School invited the sister schools principals (SMJK CH and CH Independent School) to introduce the school to the students and parents.  I did not attend that briefing.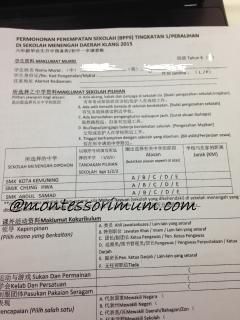 Was told that it is compulsory to fill the form even though one has decided to go for alternative schooling. (Private or homeschool)
 Option 3 Chinese Independent School
We have our reserved on letting her further her studies in CIS initial.  We are concerned that she continue in a Chinese school her command of English will deteriorate. More over Mandarin is not her strongest subject. At heart, we are still very banana. ILs and hubs who has very little knowledge about CIS are concerned if the cert is recognizable. Anyhow, somehow they mellow down and agreed to let JS try for CIS.  There are four CIS near my neighbourhood. All four are about 20km away from home (30 minutes drive is considered near , as JS has classmates that is attempting to enroll into another more popular CIS is KL center which is 40km away. There are students and teachers commute daily of that distant from our township).  My hope for her to go into CIS is that apart from emphasizing on academic, they put a lot of focus on co-curriculum as well. I know my JS is not the academic type but excel in co-curriculum. I want her to have more choices in choosing co-curriculum and be a leader in it. This is one advantage of CIS which SMK may not be able to provide her with.
Over the months, we have spoken to JS so to let be part of the decision making team. At the same time giving her the facts of all aspect of government public schools and CIS. I know deep down, her preference is to be studying in an environment where English is the medium of conduct. She likes to have friends (irregardless of races and ethnic groups) that is more "banana" in thinking – speak English, listen to English Hitz etc.  Will see how things turn out to be.
Given some reasons, there are friends who suggested us to relocated to the island where there are better school choices. Which over months of thoughtful consideration, the decision is now final.

Blogsphere: TechnoratiFeedsterBloglines
Bookmark: Del.icio.usSpurlFurlSimpyBlinkDigg
RSS feed for comments on this post
One Response to "Secondary School Option For JS"
#

Chok Mei Ping

on 01 Sep 2014 at 9:53 pm

Hi, I would like to share a bit of our experience in the same exact road that you are now facing.
Last year, I was worrying so much that I wasn't able to get my son into a reasonable ok SMK in Form 1 this year. When my son actually managed to secure a place in one of the controlled class school this year for his Form 1, I was so happy and thought that I would not have to worry about his education for the next 5 years up to SPM level. Both my husband and I share the same view that as we are Malaysians, we should be educated under the same SMK system. Both of us were from SMK and we believed in the system. We have heard stories on the deteriorating local education system but thought how bad could it be. Furthermore my son's Chinese was horrendous, therefore Chinese Independent School was out of the question.
Under the PBS system, I didn't even know how he was coping as there were no exams, just tests after every topic which just tells us pass or fail or something like that. Until he had his first exam after half a year in the school. Results weren't great having 40s and 50s in his papers, but the surprising thing was with these results he was still placed in the top half of his form. The teacher informed me that he is not sure what the new system, PTS?, is all about. We would just have to wait and see for the first batch of students sitting for the Form 3 exams in another month? or so.
Both my husband and I have had enough of this ding dong system, where nobody knows what is going on. We have decided to switch our son out of the current local system to do IGCSE next year. Hopefully, we have made the right decision.