Aug 29 2014
Hits for this post:7427
We flew into the island last weekend for JS to sit for the entrance exam.  I always thought that CIS's entrance exam are usually held in the month of late Sept and Oct, but I got to know from a friend who knew that I am keen to enrol JS to HC usually has their entrance exam in the month of Aug.  I was coincidentally at the island when HC opens for registration for entrance exam. We paid RM50 for the exam.
Students are tested on four subjects. Which are Chinese/Beginner Chinese, English, Science and Maths. Since the school also accepts students from Sekolah Kebangsaan, as long as the SK's student has the proficiency in Standard 1 Chinese, they are eligible to sit for the entrance exam. They are given different set of Chinese test papers.  (Beginner level)
Depending on the student's choice of course, the medium of the test papers differ. For UEC students, they can choose between Chinese and English to answer the Maths and Science paper. IGSCE students were to answer all papers (except Chinese) in English.
Han Chiang Entrance Exam Detail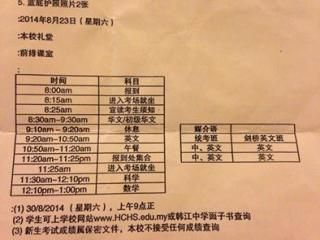 Klang Chung Hua High School Entrance Exam Detail
日期: 26/10/2014 (星期日)报到时间: 07:30a.m.
08:00 – 08:50
08:50 – 09:40
09:40 – 10:30
11:00 – 11:50
11:50 – 12:40
Chinese
Malay
English
Science
Maths
Klang Hin Hua High School Entrance Exam Detail

After comparing the test details with the two other school in Klang, I notice HC  placed a lot of emphasis on English paper. Time allocated for English test is 1 1/2 hour. 1 hour for Chinese, 40 minutes for Science and 50 minutes for Maths. JS told me that English paper was not just objective questions but also include short essay writing and listening (where a audio tape is played and they have to answer questions accordingly).
The number of students sitting for this entrance exam was so overwhelming. According to the name list, there are near to 450 candidates sitting for the exam where most of them are trying to get a place in the IGCSE class.  About 300 of these candidates are sitting for the IGCSE class, another 50 for UEC English class and about 100 for UEC class.  The school can only offer 160 place for UEC classa and another 160 for IGCSE class.  Looks like it's going to be a tough competition to get a place and I am hoping and praying REAL hard that JS can secure a place. I have confident with JS's english proficiency but I am still worried she cant be in the top 160.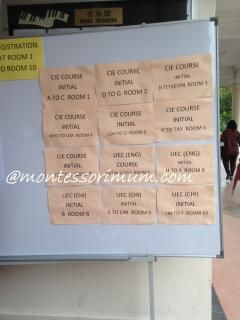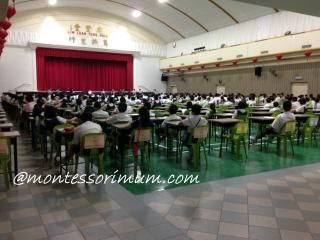 Parents were given a briefing by the school principal as well as the head of English department. The principal delivered her speech in both English and Mandarin. The head of English center speaks excellent English with British accent, which is music to the ear.
Being a busy body, i ran through all the candidates details as well. An interesting little fact that I discovered was that there are homeschoolers sitting for this entrance exam. Two had written "homeschool" as their school attended. Two to three of them left school detail blank. One is from learning centre, one from Singapore. A few from private/international school (Tenby and another one which I can't recall the name) and there are also a few from Sekolah Kebangsaan.
The result of the entrance exam will only be released a day after the UPSR exam. That is one reason why I so eagerly counting down. I am anxious to know if she gets through.

Blogsphere: TechnoratiFeedsterBloglines
Bookmark: Del.icio.usSpurlFurlSimpyBlinkDigg
RSS feed for comments on this post
Comments Off