Dec 18 2007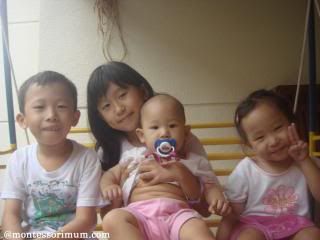 The Gems and Loves of my life.
My eldest is growing up so fast… she is now a very responsible girl who likes to be a leader. She is very friendly and helpful..
My boy is forever sunny and cheerful. He is the ice breaker, very sociable
My third loves all things girly. She likes dressing up and takes pride of her hair. She is very matured for her age, my ever so wonderful assistant.
Little one came to us unexpectedly, but I love her as much as her siblings. She is just so adorable and the apple to all her siblings.
I was a MOO to my boy for 26 months. Two months after that I got pregnant with #3,  and I was a Moo again for 20 months, I had to stop as I was unexpectedly pregnant with #4. I am still happily being a Moo to #4.
No matter what they are, how mischievous they are and plus the moments they drive me up the wall, I still love them dearly.