Aug 29 2014
Generally when we talk about Chinese Independent Schools, our understanding is that these schools are largely funded by the Malaysian Chinese community. The medium of instruction in these schools is Mandarin with simplified Chinese characters writing. The United Chinese School Committees Association of Malaysia coordinates the curriculum used in the schools and organizes the Unified Examination Certificate (UEC) standardized test.
I am taken by surprise to find out that the Chinese Independent Schools are slightly different in the northern region, at least in Penang Island.
With a twist of faith, these schools give me new hope. I couldn't believe it at first when a friend of mine told me that two of the Chinese Independent Schools offer the IGCSE O level classes. I do not know out of the 60 Chinese Independent Schools in Malaysia, how many offers this course. But what I know for now is that Han Chiang High School and Chung Ling High school in Penang offer this course. If not mistaken Poi Lam High School in Ipoh also offers IGCSE O level classes.
Han Chiang is entering it third year of offering O level course whereby if not mistaken, 2nd year for Chung Ling. The fees for this course is slightly higher than the normal UEC classes but still far cheaper than private and international schools. Han Chiang has 5 IGCSE classes whereby Chung Ling only has one. No news on whether they will add on another class for 2015.
In order to enter to these two schools, there is an entrance exam.  For Han Chiang, the entrance test is different for O level and UEC students. I do not know how the entrance exam for Chung Ling would be as the students cannot choose to go O level class but assigned to that only class based on entrance exam.  I also found out that there is a English medium UEC class offers by Han Chiang. Whereby apart from language subjects, students can learn the other subjects (maths, sciences, history, geography) in English starting from Junior 1.
Penang Chinese Girl School also has her own unique characteristics and it's the cheapest among the four. PCGS is the only Chinese Independent GIRL school. Some parents prefer this as they feel that being in a girl school can eliminate a lot of teen's boys/girls relationship problem.
Phor Tay High School is the only Buddhist Chinese Independent School throughout the whole nation. At the moment, it's not in our choice list even though we are Buddhist. I just feel that a Buddhist school does not suit my girl's personality and characteristic.
Hubs and me had visited three of these schools. Though many recommended us to go Chung Ling, but somehow the school environment did not give us a good warm feeling on first impression. Nevertheless, we have paid RM20 for the entrance exam which would be held in 28/9. We have not decided if we shall proceed to sit for the exam.
Hubs was impressed with PCGS. The school looks welcoming. Warm , clean and bright. We noticed that the girls are given opportunity to be part of all the activities and events and are very capable and hands on. We attended the open day briefing. I doubt hubs understand what the principal has to deliver as it was done in Mandarin. We like it that the school has special programs for girls. Workshops and classes on etiquette and even grooming. Still we aren't really sure if it suits JS. Majority of the teachers are Chinese. In fact 98% of them are Chinese. The whole school culture may be too Chinese for our banana family. Another concern is the distance of school and home. PCGS and Phor Tay are located at the northern eastern side of the island and our home is at the southern eastern part. Logistically it is not ideal. We can't really tell the traffic condition during rush hour.  We paid RM50 for registration. We could easily secured a place by paying the first month fees, but we weren't really sure. At least now that we have paid Rm50, shall there be no more place, we will still be in the wait list.  I can't remember the number of classes for each form. It's just a small scale school with small class size.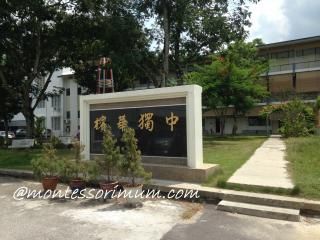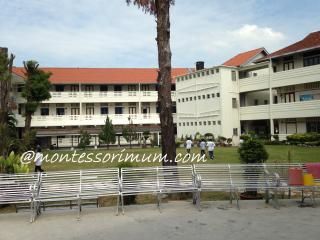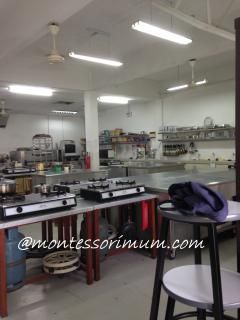 PCGS's home science lab
My top choice is Han Chiang. The main reason is that it offers IGCSE course. They are going to have 10 classes for Junior 1 next year. 5 UEC classes and 5 IGCSE course. Distance wise, it is comparatively closer than PCGS and Phor Tay. This school takes in international students as well. In a way, the students will have better exposure than other CIS. They also have teachers from other ethnicity.
We have not brought JS to do a school visit. Shall she not able to get into Han Chiang, will she want to consider the other three.
All these four schools offer boarding. But at this moment, we won't be considering boarding.
Fees comparison for the four CIS in Penang Island
| | | | | | | |
| --- | --- | --- | --- | --- | --- | --- |
| | HC | HC IGCSE | PCGS | CL | CL IGCSE | PT |
| Entrance Exam Fees | 50 | 50 | | 20 | 20 | |
| Upon Registration | 530 | 530 | 50 | 302 | 500 | 360 |
| Monthy Fees | 250 | 250 | 200 | 330 | 500 | |
| IGCSE | | 1000 | | | | |
| | 3580 | 4580 | 2050 | 3992 | 6500 | |

Comments Off