Feb 13 2009
Hits for this post:3660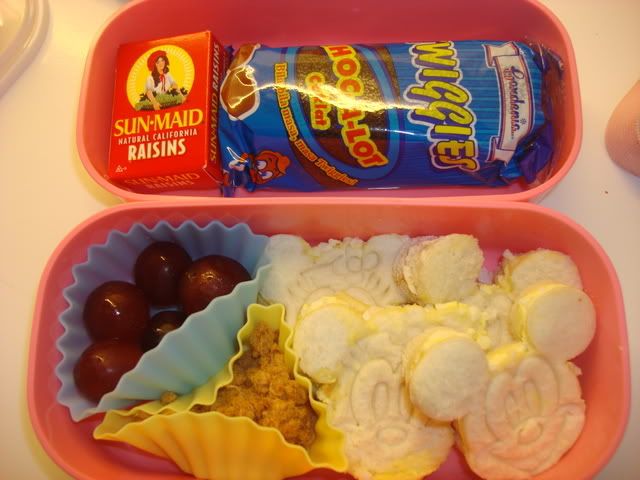 This is obviously much much simpler and instant compared to last week bento. After all, this is what princess request "Something LIGHT" . She said she can't stomach in a lot of food yet and she has just recovered from tummy ache. Even after this morning breakfast, she said she had tummy ache.
For lunch, it's egg sandwich, grapes and pork floss.
For recess, it's all instant food.
After taking a lot of what I've packed, her reaction was
"MUMMMMMMY , why you packed so much again!!! "
Tell me about it, AM I PACKING TOO MUCH?? This is going to last the whole afternoon till she comes back for dinner.

Blogsphere: TechnoratiFeedsterBloglines
Bookmark: Del.icio.usSpurlFurlSimpyBlinkDigg
RSS feed for comments on this post
3 Responses to "Bento #16"
She really eats less. Maybe like you said, she's just recovered.

She is slow and small eater.

#

Caroline

on 26 Feb 2009 at 10:46 pm

Hi,

Just wondering how did you do the egg sandwich in shape of mickey mouse! Am trying to be creative too for my daughter's lunch box. Thanks!

To prepare nice bento, you need to invest in the tools.

Have you tried using only one tier instead of two?

Yes, I have. But sometimes it's a little two small , especially when packing for two meals