Feb 14 2009
Hits for this post:12807
Sinful and fattening dessert for tonight.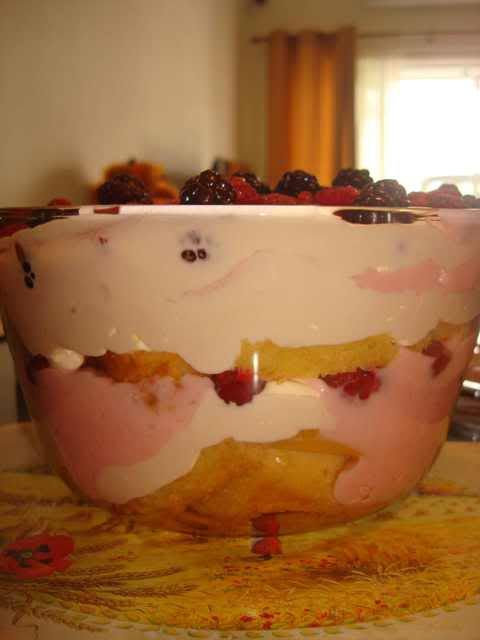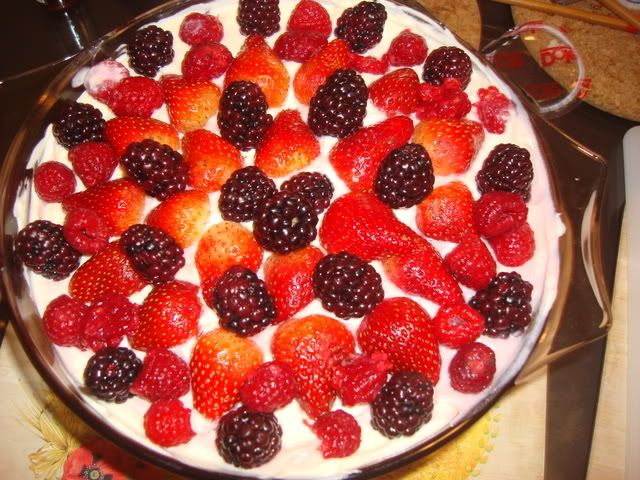 How to make
Ingredients
For the cake:
1/2 cup margarine
1/2 cup white sugar
2 eggs
1 3/4 cups all-purpose flour
1/2 teaspoon baking powder
1/2 teaspoon salt
Alternatively you can buy any ready made cake from the store. Here , I bake my own butter cake.
For the cream:
1 pint heavy cream
1/4 cup white sugar
1 teaspoon vanilla extract
1 (4.6 ounce) package non-instant vanilla pudding mix (I can't find this, I just bought a pack for instant strawberry pudding mix)
1 (8 ounce) jar seedless raspberry jam
1/2 cup sherry
4 fresh peaches – peeled, pitted and sliced
1 pint fresh strawberries, rinsed and sliced
1 pint blueberries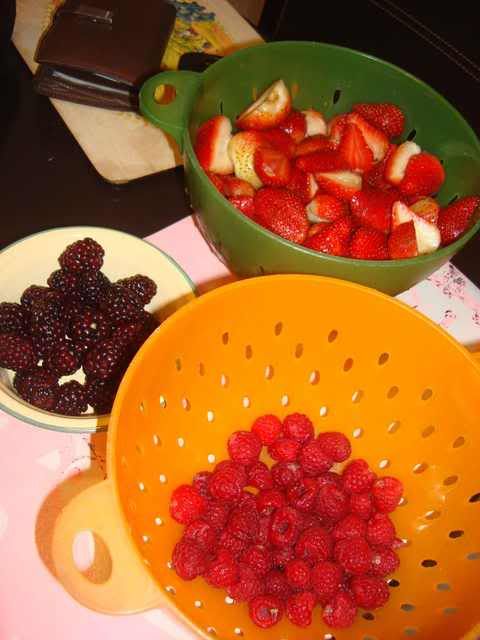 DIRECTIONS
Preheat oven to 350 degrees F (175 degrees C). Grease and flour an 8×8 inch cake pan.
In large bowl, cream together margarine and 1/2 cup sugar.
Beat in eggs, one at a time.
Combine flour, baking powder and salt.
Fold dry ingredients into butter mixture.
Pour into prepared pan.
Bake 25 minutes, or until cake springs back when lightly touched in center.
Cool in pan for five minutes, then remove from pan and cool completely on wire rack.
Cut into narrow pieces about 1 1/2 inches by 4 inches.
Set aside.
In large bowl, beat cream with electric mixer until soft peaks form.
Beat in 1/4 cup sugar and vanilla and continue to beat until stiff peaks form.
Set aside.
Prepare vanilla pudding according to package directions. Set aside.
To Assemble Trifle: Brush each piece of cake with raspberry jam. Use half the cake pieces to line the bottom of a trifle bowl or other glass serving dish. Sprinkle half of the sherry over cake. Layer half the peaches, strawberries and blueberries on top. Cover with half the pudding and a third of the whipped cream. Repeat layers with remaining cake, sherry, fruit and pudding. Top with remaining whipped cream. Chill in refrigerator at least 30 minutes before serving.

Blogsphere: TechnoratiFeedsterBloglines
Bookmark: Del.icio.usSpurlFurlSimpyBlinkDigg
RSS feed for comments on this post
5 Responses to "Berries Trifle"
wah!!!!!!!!!!!! can make this the next gathering ah?

Can, tell early yea, as it needs at least one day earlier to prepare

it certainly look delicious!!!

Not too hard to make.

u r really very talented… looks so yummy. wanna try..

anyway sorry about today. i dont know why my brain tells me 3pm. i went to mph at 3pm n they told me its 11am… furthermore 3 of my friends were with me.. shy only… hope to catch u next time.

hehe..I was wondering who is Rachel among the crowd. The turn out was not bad. But luckily you didn't come also, coz I wasn't doing a very good job. Very disappointed with my performance. Really malu only. Hopefully next round can be better.

[...] Berries Trifle [...]

i am drooling just looking at this trifle. you are amazing.. can bake sommore.

No need to drool, next time come my house, I make it again.