May 03 2009
Hits for this post:3281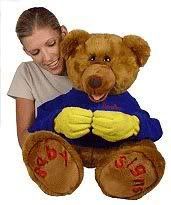 SPECIAL STORY TIME IN CONJUNCTION WITH MOTHER'S DAY!
DATE: 10th May 2009
DAY: SUNDAY
TIME: 11.oo a.m
VENUE: MPH Bookstore, SUBANG PARADE
Come join me and BeeBo the Baby Signs® Bear for a fun story time using sign language. I and Beebo will be reading stories, teachingsome signs, sing a song, play games and explain more about the Baby Signs® program/classes and about using sign language with hearing babies. Join me for lots of great stories, fun songs and signs.

Blogsphere: TechnoratiFeedsterBloglines
Bookmark: Del.icio.usSpurlFurlSimpyBlinkDigg
RSS feed for comments on this post
One Response to "Storytelling Session for Babies and Toddlers"
For children of what age?

0-3